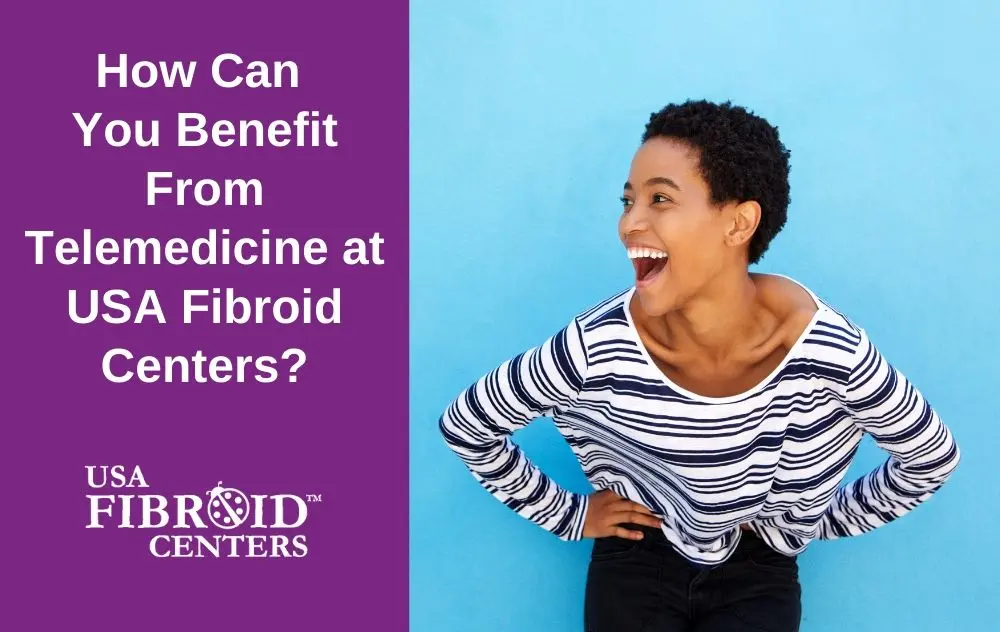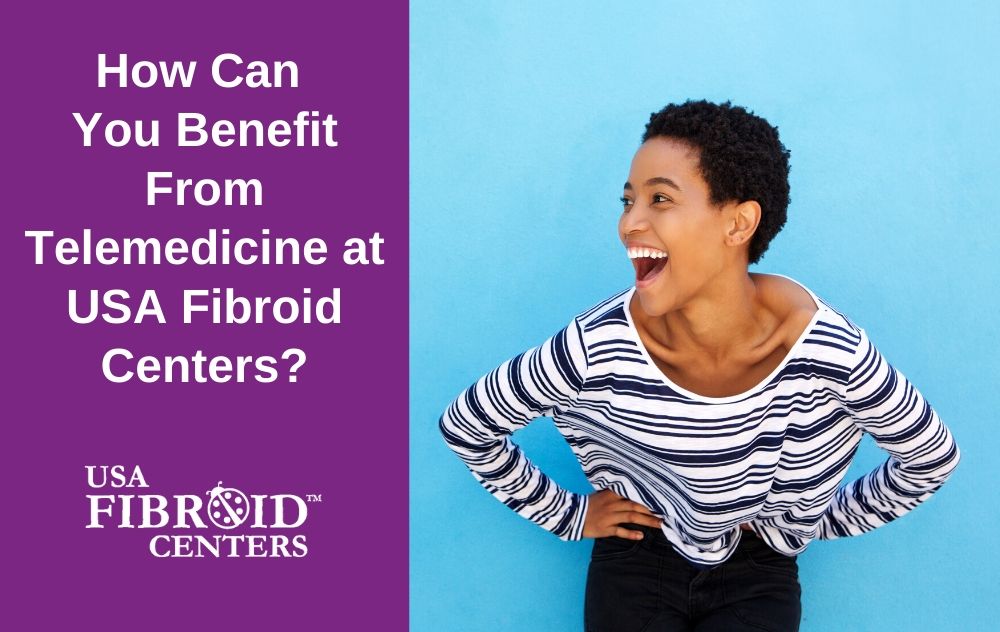 Friday, May 15th, 2020
With social distancing restrictions in place throughout the US for the foreseeable future, many individuals are turning to virtual doctor visits to avoid potential COVID-19 exposure. Telemedicine is a great, easy way to address any immediate healthcare needs. 
This type of consultation offers patients a wide variety of benefits and is easily conducted via a computer or mobile device. While some circumstances ultimately require an office visit, telemedicine provides an excellent way to get important conversations about fibroids started from the comfort and safety of your own home.
At USA Fibroid Centers, you can now schedule a telemedicine consultation to:
Discuss your fibroid symptoms
Learn about potential treatment options
Follow up after a Uterine Fibroid Embolization (UFE) procedure
No matter what your current needs are, we are (virtually) here for you.
USA Fibroid Centers: Responding to COVID-19
Telemedicine Benefits
Our specialized telemedicine benefits include:
Less Exposure to Illness
Staying home is the best way to stay protected from COVID-19, and that's the most compelling reason to schedule a virtual appointment at this time. This is particularly true if you are beyond the age of 60 or have any underlying health conditions that compromise your ability to fight acute respiratory symptoms. 
No Childcare is Needed
Because uterine fibroids are most likely to develop during childbearing years, many of our patients require child care assistance when visiting one of our offices. If childcare is unavailable, women often have to turn to a family member, friend, or neighbor to help out.
A virtual appointment allows you to remain home with your children while you consult with one of our fibroid experts. When it comes to your personal health, you deserve to take all the time you need for a thorough discussion with one of our specialists about the painful, uncomfortable, and inconvenient symptoms of fibroids.
Requires Less Time
Who wants to spend their day traveling to the doctors office and waiting around for a short consultation? Not only do some patients have to arrange childcare; others have to take time off work. 
Fortunately, we now have a better option. Schedule a telemedicine appointment with one of our top-rated experts to save yourself this inconvenience, while still getting all of your fibroid-related questions answered by a professional.
Better Access to Care
In many areas of medicine, you may have experienced frustration when trying to schedule healthcare appointments, particularly with specialists. Some doctors can be booked solid for months, and some may not be available in all in rural or remote regions. Add these factors into your busy schedule along with other restrictions, and it's no wonder it's such a challenge to book an office visit. 
Telemedicine allows for greater scheduling flexibility, partially because of a wider selection of available healthcare providers. Although there are more medical outlets offering virtual appointments, you also have the option to schedule outside of your usual networks by using on-demand telemedicine services to quickly connect under urgent circumstances. 
Triage Services
A virtual appointment can help you determine whether it is necessary to head to your primary care doctor, an urgent care center, the emergency room, or just rest safely at home. Due to severe overcrowding in some hospitals and clinics across the country from the coronavirus, this is an especially useful telemedicine benefit. 
Uterine fibroid symptoms can be severe enough to contemplate an urgent visit. Although rare, a condition called fibroid degeneration can cause mild abdominal pain and fever. Patients can also develop severe anemia from heavy menstrual bleeding, another common symptom of uterine fibroids.
Improved Health Management
Overall, patients who are more engaged in managing their healthcare are more likely to comply with doctor recommendations. The convenience of telemedicine makes it easier than ever before to consult with your healthcare providers. In turn, you're less likely to put off or cancel appointments. We encourage you to take advantage of our new telemedicine service and finally find relief from painful uterine fibroids.
Affordable Care
Our virtual visits are covered by most insurance plans, including Medicare. To verify your insurance coverage before you schedule an appointment, give us a call at 855.615.2555.
Read more: How to Get Quality Fibroid Care from Home