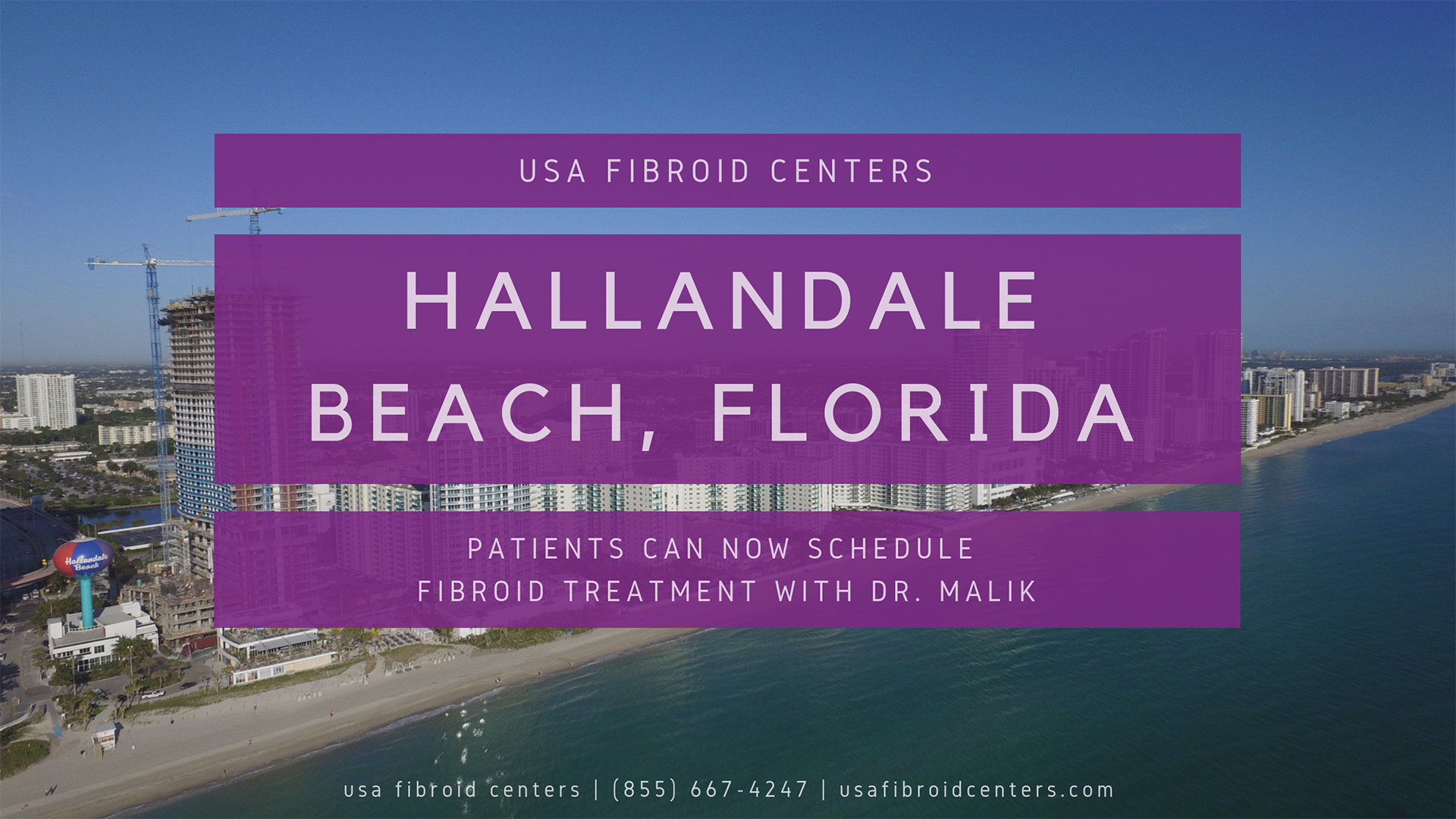 Tuesday, September 18th, 2018
As of September 1, 2018, USA Fibroid Centers is proud to announce that patients in the Hallandale Beach, Florida area can now schedule fibroid treatment with Dr. Ali Malik. The coast-to-coast network of fibroid centers has already been successfully operating in the New York City, Greater Chicago Area, and most recently the Boston Area as well. Our Hallandale Beach facility is currently located at 1711 E Hallandale Beach Blvd, Hallandale Beach, FL 33009. USA Vein Clinics has been offering vein treatment and other phlebology services at this location; however, wanted to include fibroid treatment to our expanding health care services! We would like to welcome Dr. Ali Malik, M.D. as our new Hallandale Beach Interventional Radiologist. Dr. Malik has previously worked in the surrounding Miami area, completing his residency at Mount Sinai Medical Center in Miami Beach, Florida. Bringing fibroid treatment to the Hallandale Beach area continues USA Fibroid Centers' extension of quality care to patients at the most convenient locations for them. The clinics are highly equipped and will provide the latest minimally invasive and nonsurgical treatments to patients suffering from uterine fibroids.
Renowned cardiothoracic surgeon and founder of USA Vein Clinics, Vascular and Fibroid Centers, Dr. Yan Katsnelson and his team of the nation's top interventional radiologists strive to make USA Fibroid Centers one of nation's best centers for minimally invasive, outpatient fibroid treatment.
"We are excited to continue our mission in improving the quality of life for our patients in Hallandale Beach," Dr. Katsnelson says. "The sky is the limit for us. We have provided treatment to hundreds of patients struggling with fibroids. Both of these cutting-edge fibroid centers are part of our efforts to enhance the convenience for our patients and their families in every state of the US. Our mission is to remove suffering from the lives of women afflicted with uterine fibroids."
Our interventional radiologists use a procedure called: uterine fibroid embolization (UFE), which is an advanced non-surgical treatment for uterine fibroid symptoms. With UFE, there is no hospital stay required, patients can go home right after their procedure, and the fibroid size is reduced. Symptoms typically disappear with less pain and less time off work than other invasive surgeries like hysterectomy or myomectomy. The majority of women can return to their normal, daily activities in 5-7 days, with a full recovery by 1-2 weeks. Compared to invasive surgeries that can take up to 6-8 weeks for complete recovery, UFE gives women the freedom to get back to enjoying their life faster.
"As a healthcare provider, our goal is not only to treat patients, but also to raise awareness about the importance of getting treatment," says Dr. Katsnelson. "Many of our patients have been living in pain for years without knowledge of minimally invasive procedures like uterine fibroid embolization."
It is estimated that 33% of women will develop fibroids sometime during their lifetime. Pre-menopausal women, women struggling with obesity, and women of African American descent are at the highest risk for fibroids. Life with fibroids is painful, unpredictable, and challenging. Most women going through uncomfortable fibroid symptoms endure a sense of hopelessness as abdominal cramping, bloating, frequent urination, fatigue, and pain during intercourse can lead to low-self esteem and lack of self-confidence. The doctors and staff at USA Fibroid Centers, understand how frustrating and overwhelming being diagnosed with fibroids can be. USA Fibroid Centers' main goal is to raise awareness about non-surgical treatments that leave the uterus intact and shortens the recovery time. If you are suffering from any of the above symptoms, USA Fibroid Centers are here to help! Schedule your initial consultation with an esteemed interventional radiologist to learn about non-surgical treatment options.
All treatments at USA Fibroid Centers are performed as minimally invasive, non-surgical, outpatient procedures and are covered by Medicare, most insurance plans, and Medicaid.
"The treatment approach we use at USA Fibroid Centers is customized to every patient. Our interventional radiologists make certain the patient understands the procedure and what kind of difference it will make to their lives," Dr. Katsnelson says. "Patient satisfaction is very important to us, and we make sure the patients and their family members feel completely at ease in our clinics. They have trusted us to improve the quality of their life. We want to assure them their health is in compassionate and dependable hands."
If you or a loved one is suffering from debilitating fibroid symptoms, call USA Fibroid Centers at (312) 614-1170 to schedule your initial consultation.
About USA Fibroid Centers
Our mission is to provide personalized treatment for fibroids without surgery and no hospital stay with using a cutting edge procedure called Uterine Fibroid Embolization (UFE).
Our leading interventional radiologists are fibroid specialists and provide each patient with a customized treatment plan. Our physicians have helped hundreds of women enjoy their life without painful and prolonged menstruation, heavy bleeding. pelvic pain and pressure.
Our vision is to be a national leader in non-surgical outpatient fibroid treatment.  We aim to increase awareness of fibroid symptoms (pain, pressure, heavy bleeding) and improve quality of life for every woman with this common condition.