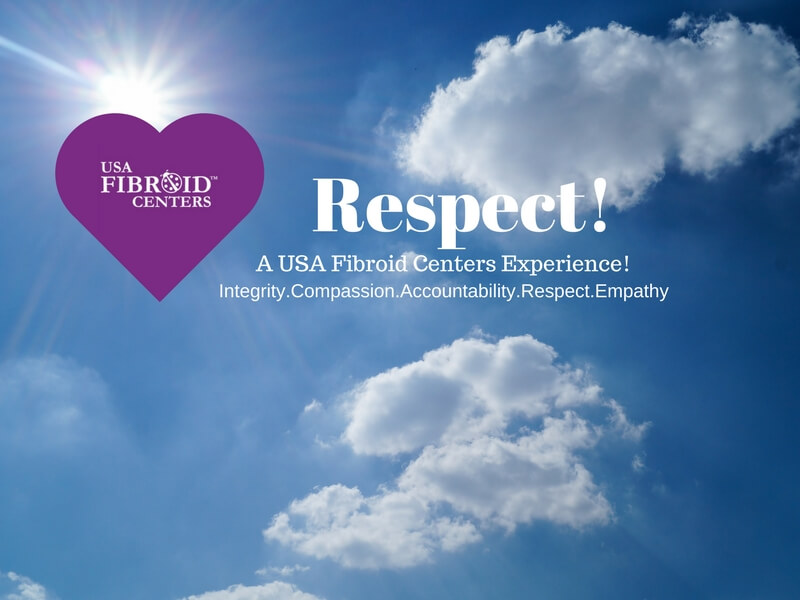 Tuesday, April 11th, 2017
Respect is one of the most important values of our USA Fibroid Centers experience. A recent research by National Institute of Health (NIH) confirms, "Patients who perceive they have been treated respectfully may experience improved clinical outcomes and greater satisfaction with their care."
We understand that along with integrity and compassion, respect for patients, colleagues and other team members is an essential attribute of medical professionalism. We have trained every member of our staff to pay attention to the unique needs of our patients and to be responsive to every question or concern they may have. Respect also helps build a trustable patient to physician relationship which helps the patient in developing better communication with their doctor.
This is how we acknowledge respect as a foundational ethical principle at USA Fibroid Centers:
Patient Involvement in Decision Making: Communication is the key element in decision making. Our interventional radiologists always make sure patients feel involved in their treatment and aware of the outcomes and what kind of difference the treatment would make to their lives.
Family Centered Patient Care: Patient needs and preferences central to their care must be understood within the context of the relationships that are important to their lives. Thus, caring for the patient inherently includes caring for the family.
We Demonstrate Respect: We honor the uniqueness of our patients as well as our team members. We demonstrate respect by our words, deeds, and behaviors and honor our patient's choices, preferences, and boundaries for privacy.
Attending to Patient Needs: We demonstrate respect by attending to patient's health and physical needs and ensure authentic engagement with patients to help them understand their symptoms and how we would improve the quality of their life.
Cultural Humility: Our doctors and their staff at USA Fibroid Centers is culturally diverse and understand several different languages. We respect cultural diversity and incorporate respect for the particular values, beliefs, and practices of our patients as well as our team members.
If you are suffering from painful and prolonged menstrual bleeding that continues for more than a week, frequent urination, pelvic pain and pressure, tiredness and fatigue caused by anemia (iron deficiency). Call (855) 667 4247 to schedule a consultation with our leading interventional radiologists. Treatments at USA Fibroid Centers are covered by most insurance plans.