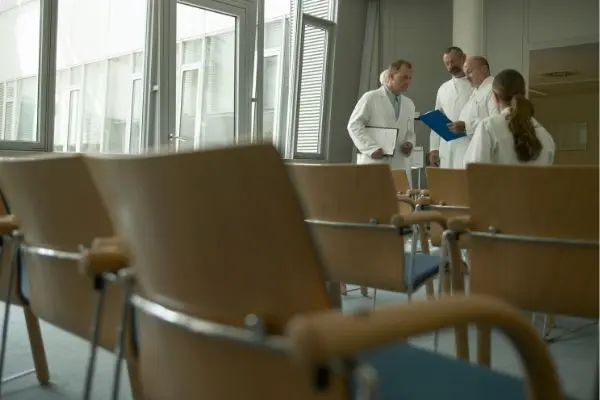 Tuesday, May 5th, 2020
In recent months, the daily news has been a lot to take in. We've all heard reports of widespread illness, crowded hospitals, and medical supply shortages due to COVID-19. If you are suffering from the unfortunate effects of uterine fibroids on top of everything else going on, you probably have some concerns about if and how you can receive quality fibroid care at this time.
At USA Fibroid Centers, we recently introduced virtual doctor visits which allows you to access essential fibroid treatment during the current pandemic. If you're wondering how telemedicine improves quality of care, give us a call today to see how we can provide a solution for you.
Read more: What is Telemedicine?
Can Telemedicine Improve Your Quality of Care? 
Absolutely –– particularly when it allows you to schedule medical appointments when you might otherwise avoid or delay treatment. Although you may be sheltering in place at the moment, our essential healthcare workers are now safely and conveniently available for consultation via our telemedicine services. 
If you are experiencing uterine fibroid symptoms, we encourage you to schedule a virtual consultation as soon as possible with one of our top-rated specialists. 
Common symptoms can include: 
Heavy and prolonged menstruation between or during your periods

Anemia, which can lead to fatigue

Pain during intercourse

Frequent urination

Constipation and/or bloating

Pain in your pelvis or lower back

Increased menstrual cramping

Stomach swelling
We recommend seeking treatment when your symptoms interfere with your career, social life, relationships, or self-esteem. Although we understand that you may be hesitant to come into our offices at this time, we do not recommend avoiding or delaying fibroid treatment because…
Symptoms can worsen as fibroids grow larger

Fibroids have the potential to harm surrounding organs

In some cases,

fertility

can be impacted

Treatment options may be limited if your fibroids become very large
Through the use of video-conferencing, we can provide all of the same expert care you would receive during an office visit. 
During your telemedicine appointment, you will be able to:
Discuss your fibroid symptoms

Get questions answered about uterine fibroids 

Discover your full range of available treatment options

Receive recommendations on the best fibroid treatment for you

Learn about our nonsurgical treatment approach ––

Uterine Fibroid Embolization (UFE)
We don't think there is any significant difference between an office visit and a virtual one when it comes to fibroid care –– although ultimately, we believe that telemedicine quality of care is higher because this type of visit may be much easier for you.
Uterine Fibroid Embolization Treatment Guide
How Does Telemedicine Improve Quality of Care?
In almost all fields of healthcare, telemedicine is proving beneficial for people across the country. At USA Fibroid Centers, our virtual doctor visits offer:
Convenient Access to Specialists
When you book a virtual doctor visit with one of our fibroid experts, you don't even need to leave the safety of your home to access quality specialty care. You also don't need to take time off work or arrange for child or elder care during your appointment. If you live in a remote community or in any area that doesn't yet offer a USA Fibroid Center, using telemedicine services can save you time, hassle, and money otherwise required to travel to one of our office locations. Finally, virtual consultations may be especially valuable for anyone who lacks transportation or is home-bound due to age or illness.
No Delay in Fibroid Treatment
Telemedicine allows you to schedule an initial consultation with one of our specialists in a timely manner –– even during a public health crisis. Because our virtual appointments are a more efficient use of time for everyone involved, they offer greater availability and flexibility when scheduling.
There is just no reason to sit around at home and suffer from painful, uncomfortable, and inconvenient fibroid symptoms when you can get started towards recovery today. After your initial visit and fibroid treatment, you can schedule a virtual follow-up appointment to help ensure a smooth recovery. 
Only One Office Visit Required
If you choose to pursue UFE with us, there are typically three separate appointments involved. These consist of:
An initial consultation

The UFE procedure

A follow-up visit
Although you can now schedule your initial and follow-up visits using our new telemedicine services, you will still need to come into one of our offices for the actual treatment. Please be aware that UFE takes only 30 to 45 minutes and is performed as an outpatient procedure. 
Many of our patients are now using our virtual services for their consultations. As a result, there are generally fewer people coming through our offices. Therefore, on the day of your treatment, you are unlikely to experience crowded waiting rooms that could elevate your risk of exposure to infectious disease. We also want you to know that we are following strict precautionary measures during the COVID-19 crisis that always put your health and safety first.
Improved Personal Ownership of Healthcare
You've probably experienced long wait times in a medical facility's lobby, or agonized about whether their symptoms were worthy of a trip to urgent care. We believe telemedicine is a helpful and effective way to improve overall quality of care, along with your healthcare experience.
This is especially true when it comes to medical specialties like treating uterine fibroids. When individuals feel more connected to their healthcare providers through improved access, they are more likely to take ownership of their health conditions, and follow through on important medical recommendations like getting fibroid treatment. At USA Fibroid Centers, you will soon discover how easy and convenient it is to get the help you need.
Advantages of Telemedicine for Patients
How Can Women Get Quality Fibroid Through Telemedicine During COVID-19? 
To schedule a virtual doctor visit with one of our world-class uterine fibroid specialists, simply fill out our Virtual Consultation Request form. You will be asked to provide your:

Name

Phone number

Email address

Preferred date and time (a two-hour window)

Health insurance information
Telemedicine appointments are covered by most major insurance plans. You are welcome to give us a call in advance of your appointment at 855.615.2555 to confirm your coverage details. Then, at your requested appointment time, one of our specialists will contact you. All you will need is a computer, tablet, or mobile device with a camera and internet connection.
As America's #1 fibroid treatment center, we are proud to stand by your side through both good times and bad by providing superior healthcare options,including telemedicine. Quality of care, convenient access to specialists, a safe office environment, and the avoidance of unnecessary fibroid surgery, are all key features of our proven approach to helping you regain control of your life.