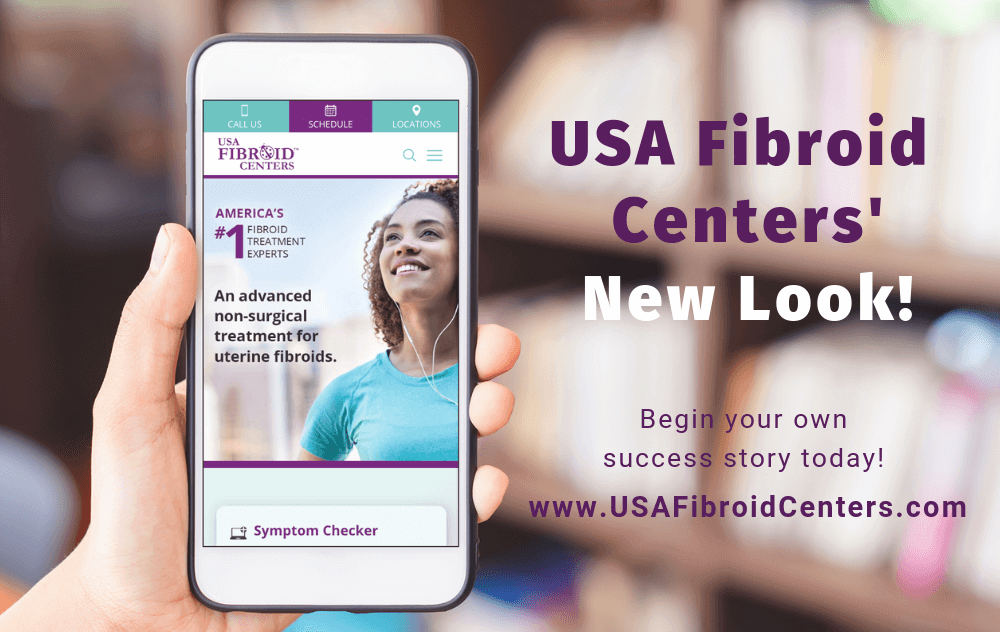 Monday, February 11th, 2019
Welcome to Our New Website
It's here! The last few months have been a whirlwind, but we are finally ready to reveal our secret project we've been working on for the last few months. For the New Year, we decided that USA Fibroid Centers' new website deserved a fresh look. We wanted the redesign of our website to better fit with our mission of spreading awareness and educating our patients about non-surgical, fibroid treatment options.
We listened to what our patients wanted: a website that answered all of their pressing questions about uterine fibroids. The percentage of women with fibroids who are currently unaware of non-surgical treatment options is still too high, at over 44%. We wanted our website redesign to reach our goals of offering a non-surgical treatment option, providing personalized care, and expanding the conversation about uterine fibroids.
Our top priority when creating the new website was your convenience. You will now have the ability to sign up for our monthly informational newsletter, make online bill payments, and use our more comprehensive fibroid symptom checker. In addition, we have added more patient success stories and detailed summaries about our treatment services. We want to give you as much information as possible about uterine fibroids so you can make the right decision for you.
What's New?
Extensive Resources on Uterine Fibroids and Fibroid Treatment
Fibroid Symptom Checker
In-Depth FAQ from our Interventional Radiologists
Informational Blogs
Schedule Online Feature with Instant Insurance Verification
Clinic Information and Enhanced Map
Doctor Profiles and Credentials
Patient Success Stories and Testimonials
Online Bill Payment (Coming Soon)
Last year, we reached new heights by opening 23 treatment facilities across the county. This year, we're planning on expanding even more! We want to make non-surgical fibroid treatments available to everyone who suffers from uterine fibroids, so they are able to live their life free of fibroid symptoms.
Take a look around our new website and begin your own success story! www.USAFibroidCenters.com