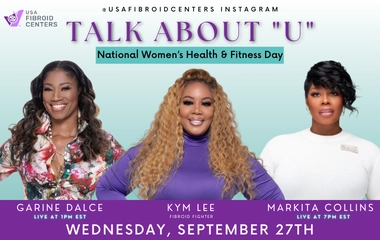 Talk About U: National Women's Health & Fitness Day
Join USA Fibroid Centers' Ambassador Kym Lee as she takes over the Instagram account of USA Fibroid Centers for the Day. She is educating people about fibroids, their symptoms, and treatment. Uterine fibroids affect millions of women throughout the world.
Kym will lead the discussion with Garine Drake and Markita D. Collins, in celebration of National Women's Health and Fitness Day. 
Garine Drake is an entrepreneur whose focus is helping improve overall health. She holds master's degrees in business administration and social work. Like many women, Garine also has suffered from fibroids. She will discuss prioritizing your mental health.
Markita D. Collins is a certified Master Life Coach and best-selling author of "I'm Still Old-Fashioned!" Markita will share her fibroid journey and discuss the importance of caring for our emotional health and overall well-being.
 Join us: 
Wednesday, September 27, 2023 
All Day 
Talk About "U" is a safe place for women to have honest conversations about fibroids and how they affect every aspect of our overall well-being.
Follow us on Instagram to make sure you don't miss out!