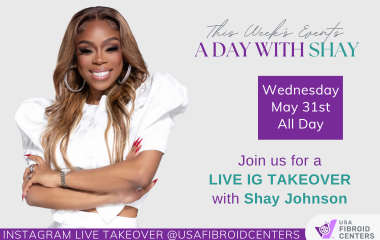 A Day With Shay on Wednesday, May 31
Spend a day with Shay Johnson, an actor, model, and fitness coach best known for her performances in music videos and on reality TV shows like "Love and Hip-Hop Miami."  
Shay Johnson is taking over the Instagram account of USA Fibroid Centers to help raise awareness of fibroids, which are benign tumors that affect millions of women, and provide information on symptoms, diagnosis, and treatment choices.   
 Make a note on your calendars to spend the day with Shay:  
Wednesday, May 31, 2023
 Follow us on Instagram to tune in, ask questions, and comment in real time.  
JOIN THE CONVERSATION!  
SHARE THIS EVENT