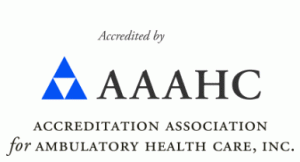 Fibroid Treatment in Northbrook, IL
Each year, millions of women suffer from the debilitating effects of uterine fibroids. These common, noncancerous tumors can cause pelvic pain or pressure, heavy periods, painful sex, and frequent urination. Although many doctors recommend a hysterectomy or other surgical fibroid treatments in Northbrook, IL, our fibroid specialists aim to educate patients about their full range of treatment options. At USA Fibroid Centers, we offer an effective, non-surgical treatment called Uterine Fibroid Embolization (UFE) that can preserve your uterus while alleviating painful, unpleasant, and unpredictable symptoms.
Uterine fibroids are benign growths that develop in or on the uterus. While not usually considered dangerous, they do have the potential to cause undesirable symptoms, as well as harm surrounding organs and impact fertility. Some women develop solitary fibroids, while others get clusters of them. Fibroids can be as small as a tiny seed to as large as a watermelon –– with the largest ones weighing over 20 pounds. The type, size, location, and number of fibroids impact which symptoms occur, as well as their severity.
Common uterine fibroid symptoms include:
Anemia-induced fatigue
Pelvic or lower back pain
Constipation
Stomach bloating
Severe cramps or pelvic pressure
Schedule Your Consultation in Northbrook
Learn More About Fibroid Symptoms
For some, the effects of fibroids can be exhausting and life-changing –– while others may not experience any symptoms at all. We recommend seeking treatment if your uterine fibroid symptoms interfere with your career, sex life, self-esteem, or social interactions. When deciding on which treatment to pursue, we suggest consulting with one of our top-rated experts to learn about our state-of-the-art fibroid treatment in Northbrook, IL.
Minimally Invasive Fibroid Treatment in Northbrook, IL
If you believe that a hysterectomy is the only option for treating fibroids, we are here to correct that misconception. At USA Fibroid Centers in Northbrook, our fibroid specialists want you to know about a minimally invasive, lower-risk, nonsurgical treatment that will quickly have you back to normal activity –– all without a hospital stay or lengthy recovery. In fact, recovery from Uterine Fibroid Embolization takes only one to two weeks, compared to a six to eight-week recovery after hysterectomy surgery.
At USA Fibroid Centers, our experts guide you through every step of treatment for fibroids in Chicago and recovery. Uterine Fibroid Embolization is performed by our highly qualified fibroid specialists in state-of-the-art facilities. Unlike some other Northbrook, IL fibroid removal specialists, we use an ultrasound technique called fibroid mapping to locate your fibroids. This is performed under light sedation –– and the entire procedure lasts between 30 and 45 minutes.
Here's what you need to know about treating fibroids in Chicago:
General anesthesia isn't necessary
We'll keep you calm and comfortable the entire time
Embolic material is injected through a tiny catheter into the uterine artery to block blood flow to the fibroids
After the fibroid(s) is cut off from nutrients, it will wither away over time
The injected material remains permanently in the blood vessels at the fibroid site, lessening the likelihood of it growing back in the future
Afterwards, you will be able to go home with only a bandage covering a small incision on your upper thigh
You will not need stitches
UFE is approximately 85% successful in improving fibroid symptoms
To discover whether you are a candidate for Uterine Fibroid Embolization, make an appointment today for an initial consultation. You will soon learn that our experts perform UFE with skill, cutting-edge technology, and the highest regard for our patients' comfort.
Looking for a Northbrook, IL Fibroid Specialist?
Our experts are passionate about providing easily accessible women's healthcare. As the #1 fibroid treatment experts in the country, we offer Uterine Fibroid Embolization at dozens of conveniently located clinics. Our highly-qualified fibroid specialists can help you avoid unnecessary fibroid surgery and explore your full range of treatment options. Simply stop by our office to discover the best path to a future without fibroid-related pain and discomfort.
Our Fibroid Doctors
Beginning Your Fibroid Treatment in Northbrook
If you're searching for safe and effective fibroid treatment in Northbrook, you've come to the right place. The dedicated professionals at USA Fibroid Centers provide top-of-the-line UFE treatment and put your comfort first. 
Since our team of fibroid specialists understands that any procedure can be stressful, our dedicated staff will take the time to answer all of your questions to ease your concerns before scheduling your UFE procedure at our Northbrook location. 
How to Prepare for your Visit
For us to provide you with the best care and comfort, we recommend you bring the following to your appointment;
A photo ID or other government-issued identification

Insurance cards and provider information

Complete list of all current medications

A medical history of any previous fibroid treatments
Leading up to and on the day of your scheduled UFE treatment, our fibroid specialists recommend you: 
Don't drink caffeine, alcohol, or smoke tobacco

Avoid eating for 24 hours before your procedure

Take all prescribed medication with the exception of blood thinners and over-the-counter pain relievers

Drink only clear liquids within 3 hours of your

fibroid treatment

Please bring a friend or family member to drive you after your procedure
Confirm your Insurance Coverage
At USA Fibroid Centers, we work with most insurance carriers to provide the broadest range of coverage and benefits. Before scheduling your treatment with our Northbrook fibroid specialists, check for your insurance provider on our extensive list. Call us locally at 847.580.1312 should you not see your provider listed to discuss your insurance coverage options. You can rely on our caring fibroid specialists for the best health care in Northbrook.
Directions to Our Northbrook, IL Fibroid Treatment Center
Our Northbrook center is at 4141 Dundee Road, near the I-294 interchange. 
Nearby Areas We Serve:
Evanston

Des Plaines

Mt. Prospect

Buffalo Grove

Arlington Heights
Fibroid Center Near Evanston: We are only about 16.4 miles from Evanston, or a 30-minute drive via I-94 West. 
Fibroid Center Near Des Plaines: Our Northbrook center is about a 20-minute, 8.5-mile drive via South River Road. 
Fibroid Center Near Mt. Prospect: We're about 8.5 miles away from Mt. Prospect. The drive takes 19 minutes via North Des Plaines River Road.
Fibroid Center Near Buffalo Grove: Our center is about 6 miles from Buffalo Grove; the drive takes about 15 minutes via Lake Cook Road.  
Fibroid Center Near Arlington Heights: We are about a 19-minute, 9-mile drive from Arlington Heights via East Palatine Road. 
Book Your Northbrook, IL, Fibroid Treatment today
When uterine fibroid symptoms are negatively impacting your life, our experts at USA Fibroid Centers can help. To get started, schedule a consultation with our Northbrook, IL fibroid specialists to learn more about Uterine Fibroid Embolization and your full range of treatment options. We are standing by to help you take back control of your life.