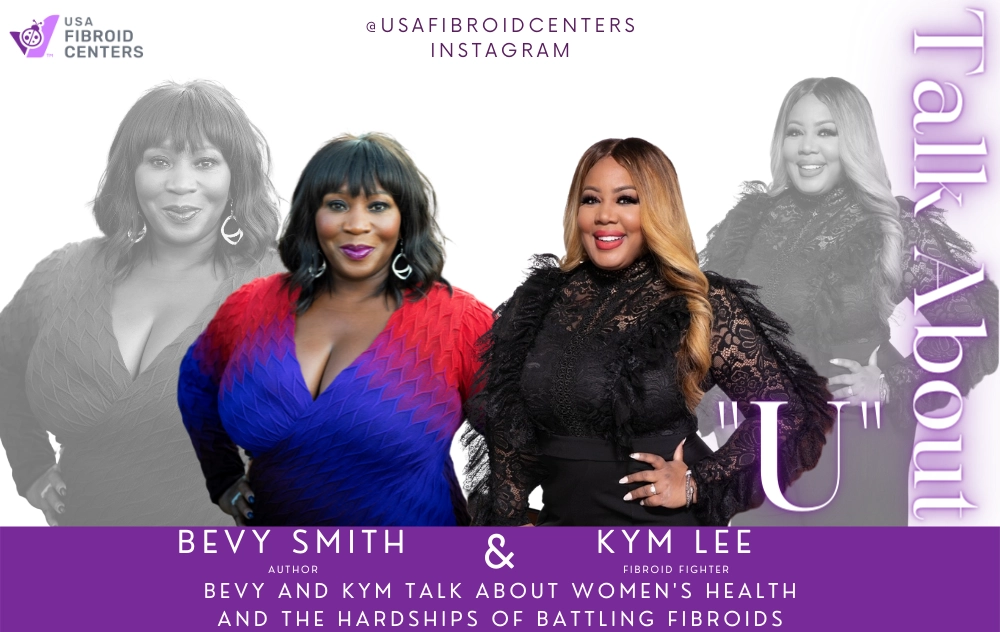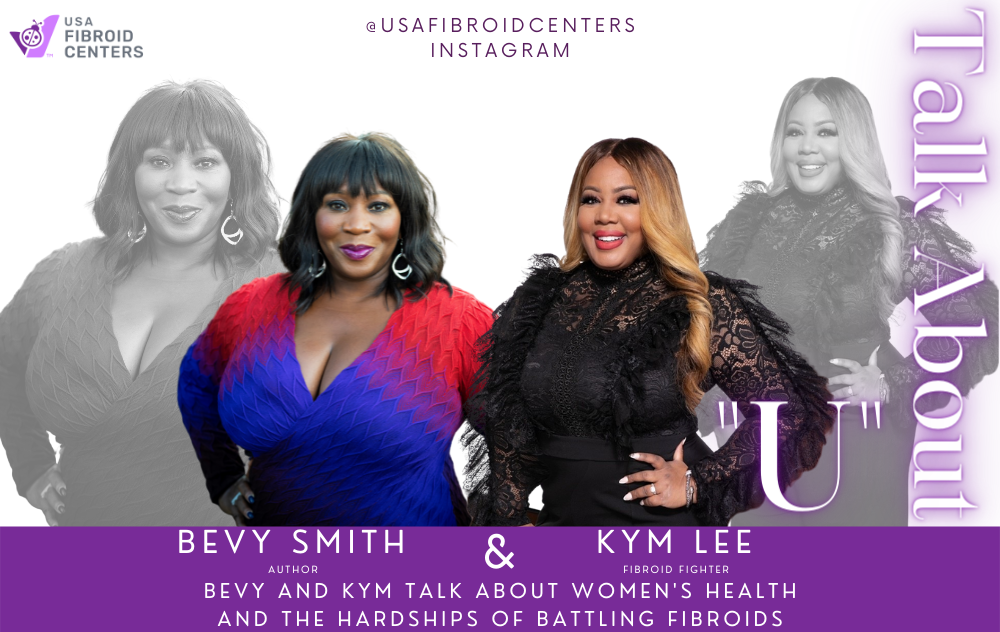 Thursday, February 17th, 2022
If you missed our "Talk About U" Instagram Live on January 26h with author Bevy Smith and Fibroid Fighter Ambassador Kym Lee, you can watch the entire episode here. Talk About "U" Live health discussions are on the USA Fibroid Center's Instagram platform at 7:00 p.m. (EST) and air twice a month.
Most people recognize Bevy Smith as the host of Sirius XM's "Bevelations" and the co-host of Bravo's Fashion Queens. But what they may not know about is her interest in helping women talk about fibroids so that they can make informed health decisions.
Bevy shares her gradual realization that she was suffering from fibroids. Her menstrual flow increased from "a girl that could wear white" to becoming more problematic as she became perimenopausal.
Bevy spoke with USA Fibroid Centers Ambassador Kym Lee in a recent conversation that highlighted the importance of women realizing that fibroids do not affect every woman with the same symptoms.
Heavy menstrual bleeding, the most common symptom, occurs in about one-third of patients and can result in life-threatening anemia. Other symptoms can include intense pelvic pain, frequent urination, constipation, backache or leg pain, fatigue due to anemia and a protruding abdomen.
Many women, like Bevy, may not experience any of the "tell-tale" symptoms and just notice that their monthly flow is shifting over time.
Fibroids are more likely to grow during periods of high hormone levels, such as during pregnancy. On the other hand, perimenopause can cause changes in a woman's hormone levels.
Some women may experience symptoms as early as their mid-30s, while others may not discover signs until they are well into their 50s. Fibroids are commonly misunderstood to disappear after menopause. This isn't always the case, though. Uterine fibroids are dependent on estrogen and progesterone, according to recent research. Fibroids increase as these hormones diminish throughout menopause.
In Bevy's new memoir, "Bevelations: Lessons from a Mutha, Auntie, Bestie", she describes her transition from a fashion advertising executive into a media personality. Although she had experienced a variety of hurdles in her professional life, the pop culture and fashion aficionado was caught off-guard when she began experiencing symptoms of fibroid disease. Bevy talked about her surprising struggles with fibroid symptoms.
"Like many women, I wasn't taking care of my health due to my busy schedule," Bevy shared. "I didn't experience all the symptoms that other women might have with fibroids, but I suddenly was having a much heavier flow."
Bevy is sharing her fibroid symptoms to educate other women about the symptoms, diagnosis, and treatment choices so they may make better health decisions. Menstrual bleeding, acute pelvic pain, frequent urination, constipation, backache or leg discomfort, weariness due to anemia, and a bulging abdomen are all common fibroid symptoms.
In fact, it was an "accident" that Bevy experienced on set that made her realize the need to pay more attention to her physical health.
"There are so many women who are going to work, who have the same experience," says Bevy. "But they don't have another change of clothing. I had a stage manager who could help me in a dressing room with a change of clothing. Fibroids really do wreak havoc in your life."
"Too many women consider heavy bleeding to be normal and something they must endure," Kym explains. Kym didn't realize she needed a second opinion until someone told her that the amount of bleeding and blood clots, she was experiencing weren't normal. "I was wearing all black to normalize my fears and concerns," Kym explained.
Because of the issues associated with a heavy period, having fibroids can also lead to isolation. With a quality-of-life score, USA Fibroid Centers measures each patient's emotional and mental health, allowing our doctors to understand better how treatment relieves more than just physical issues for our patients.
It's vital that women know that they have choices when making decisions about their fibroid treatment. USA Fibroid Centers is a leading provider of Uterine Fibroid Embolization (UFE). This safe and effective fibroid treatment doesn't require surgery and preserves a woman's uterus.
If you are experiencing heavier menstrual cycles or other fibroid symptoms, reach out to USA Fibroid Centers to schedule an initial consultation. Our fibroid specialist can work with you to determine the best course of treatment for your fibroids.