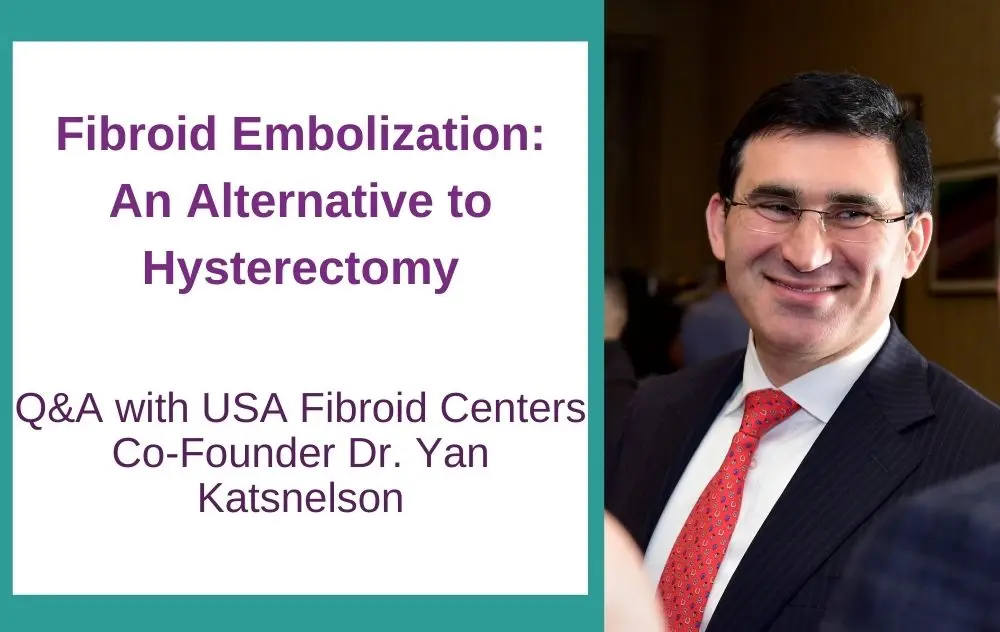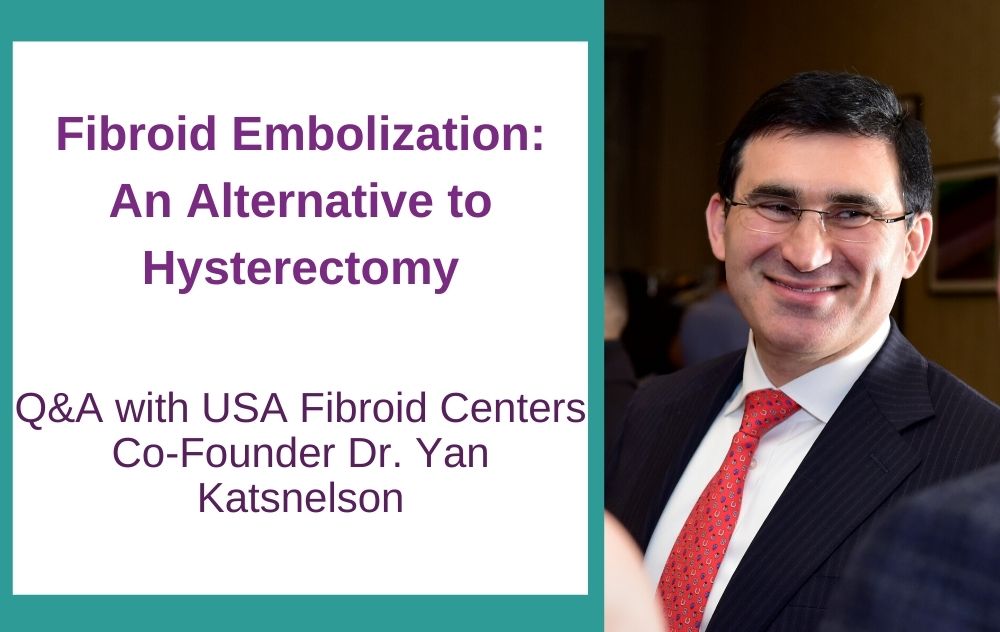 Tuesday, July 28th, 2020
At USA Fibroid Centers, we exclusively offer a non-surgical fibroid treatment called Uterine Fibroid Embolization (UFE). Our treatment is unlike fibroid surgery in that it does not require an expensive hospital stay or lengthy recovery. Unfortunately, many women with fibroids are uninformed about UFE, and they often end up choosing other more invasive methods of fibroid treatment like hysterectomy.
What is UFE?
Uterine Fibroid Embolization is a non-invasive treatment procedure for uterine fibroids. This treatment works by cutting off the blood supply to the fibroids so they eventually shrink and die. Many women can have fibroids for years and never experience any symptoms, while others may have painful, irregular periods that affect their daily life. The best way to determine if your fibroids need treatment is to consult with a fibroid specialist.
Interview with USA Fibroid Centers Co-Founder, Yan Katsnelson
Our Co-Founder, Dr. Yan Katsnelson, spoke with a reporter from Healio, an in-depth specialty clinical information website, about the lack of awareness surrounding UFE for fibroid treatment. There are many women that turn to invasive methods of fibroid treatment like hysterectomy to find relief. This is unfortunate because they may have been able to save their uterus if they were aware of other fibroid treatments like UFE. Below are some questions pulled from the exclusive interview with our Co-Founder.
Q: When should a woman undergo hysterectomy?
A: A women should not undergo a hysterectomy for fibroid disease 99% of the time because fibroid disease is a benign condition, benign tumor, and it can be healed with a percutaneous, minimally invasive office-based procedure called uterine fibroid embolization (UFE). The main reason that women undergo a hysterectomy is that they just don't get the right advice and don't consider the most appropriate option.
Q: Why are hysterectomies performed more often than uterine fibroid embolization in the United States?
A: Hysterectomy is disproportionate compared to uterine fibroid embolization in all women. I think that the combination of lack of awareness and decreased access to care are two main reasons, and they both are fixable. We need to work on this. We need to work to improve awareness, and then we need to work with the health plans to make sure that they have a sufficient number of specialists, such as interventional radiologists, provide adequate access to care.
Q: What are some other alternative treatment options to hysterectomies that physicians should consider?
A: The No. 1 option is uterine fibroid embolization. If the disease is mild, it can be controlled with ibuprofen. If a patient is having more symptoms, such as significant pain associated with the menstrual period, including anemia, the best procedure is uterine fibroid embolization. Why is that? Because it can be done in the outpatient setting, it doesn't require general anesthesia, there's no incision, patients can go back to work in a few days, you leave the uterus intact — so women can become pregnant again avoiding issues of bladder incontinence — and it's easier and less expensive for patients and cost-saving for our health care system.
Common Symptoms of Uterine Fibroids
Fibroid symptoms are often confused with regular symptoms associated with PMS. For some women, especially those going through menopause, signs and symptoms of fibroids may seem non-existent. However, it's important to know what to look for in case you do start experiencing symptoms, such as:
Heavy and prolonged menstruation between or during your periods
Anemia, which can lead to fatigue
Pain during intercourse
Frequent urination
Constipation and/or bloating
Pain in your pelvis or lower back
Increased menstrual cramping
Stomach swelling
These symptoms can bring other problems of their own. For example, many patients with fibroids also deal with poor sleep from frequent urination or pressure on their bladder. Heavy menstruation can lead to anemia which causes fatigue and a general lack of energy.
Contact Us for Non-Surgical Fibroid Treatment
At USA Fibroid Centers, we specialize in uterine fibroid embolization, a safe, non-surgical, effective treatment for fibroid pain. The uterine fibroid embolization treatment is an outpatient procedure—meaning no hospital stay, and a quick recovery. Don't wait for treatment if you have fibroids. Schedule an appointment online or call us at 855.615.2555.