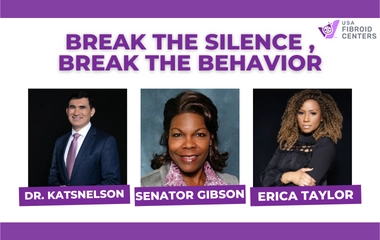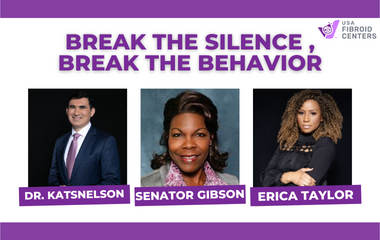 Tuesday, May 10th, 2022
Florida's Uterine Fibroid Research and Education Act takes Effect July 1, 2022 
Senator Audrey Gibson talks with Fibroid Ambassador Erica Taylor and Founder Dr. Yan Katsnelson, about her companion bill for Uterine Fibroid Research and Education was signed by Governor Ron DeSantis, which will take effect July 1st, 2022, in Florida.
This bill will require the Department of Health to develop and maintain an electronic database of information related to uterine fibroids and require health care providers to submit certain information to the department for inclusion in the database. The information includes describing the symptoms of uterine fibroids, and how often women should get a checkup with their doctors to prevent fibroids and stop the disease from getting worse.
The bill is seen as a major victory in the fight to allow women to have information and choices regarding fibroid care.
"I want to thank my House of Representatives' partner, Anika Omphroy [D-95] who asked me to sponsor the Senate bill. As the daughter of a healthcare professional, my focus in my entire career in the legislature has certainly included healthcare issues and healthcare disparities," said Gibson, a fibroid survivor herself, who tells personal stories on the senate floor.  "I always say, what's happening in my family is multiplied across my district, across the state, and across the country."
Gibson immediately wanted to support the bill, but understood the importance of looking at the facts and statistics.
"The first thing I wanted to do was make sure I pulled up the data because it helps people to make decisions. The data showed that not only in Florida, but across this country," she said, "that millions of women of childbearing age and a little beyond, suffer with fibroids―and surgery has always been the option. We wanted to look at something different than just a surgical procedure. And so, I was happy to sponsor the bill."
The video conversation highlights Gibson's success in getting the bill passed. While it took the work of multiple committees, she notes it was, "In part, it was a matter of reaching out the chairs to help them realize that this was a real urgent need in our communities, particularly for African American women."
The timing was perfect, in part because of federal dollars. "The Speaker of the House felt we should focus on health disparities as we moved forward with our legislative work," emphasized Senator Gibson, who represents the 6th district, which includes sections of downtown Jacksonville in Duval County. "There wasn't a reason not to pass legislation that helps to reduce health disparities and also helps look at safer and less invasive treatment for women who suffer from fibroids."
Gibson, whose battle with fibroids included suffering from anemia, had surgery for her fibroids. She emphasizes, "The data is already there, in the numbers of women who suffer from fibroids across this country and in this state. We want to make sure that women know that there are choices. Physicians also need to let their patients know about treatment alternatives and offer choices."
Watch below:
CONTACT USA FIBROID CENTERS
As Dr. Yan Katsnelson emphasizes in the video, it's important for women to know that there are minimally invasive choices to help treat fibroids.
USA Fibroid Centers has many resources to help you.
Take the symptom quiz if you think you have fibroids, and contact us with any questions you may have about your symptoms.
Contact one of our experienced fibroid specialists if you want more information about fibroid treatment; we provide both in-office and virtual consultations, so schedule one online today.
USA Fibroid Centers' "Break the Silence, Break the Behavior" video series is about sharing awareness so women have better treatment options for fibroid treatment.