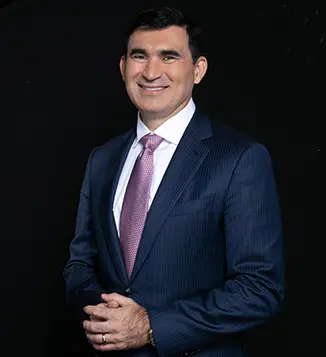 Organization
Founder of USA Fibroid Centers, USA Vein Clinics, USA Vascular Centers & USA Oncology Centers
Biography
Dr. Yan Katsnelson is a philanthropist, entrepreneur, highly skilled cardiac surgeon, and business owner. He is the founder and CEO of USA Clinics Group – the parent company of USA Fibroid Centers, USA Vein Clinics, USA Hemorrhoid Centers, USA Prostate Centers, USA Vascular Centers, and USA Oncology Centers. Dr. Katsnelson has established himself as a strong advocate for accessibility, affordability, and compassion in the delivery of healthcare services.
As CEO of USA Clinics Group, Dr. Katsnelson has pioneered minimally invasive options that provide high-quality care using the latest technology in the most advanced facilities. He also founded the Chicago Heart Institute, which is dedicated to the quality treatment of heart, lung, and blood vessel diseases.
Dr. Katsnelson completed a fellowship at Harvard Medical Center's Brigham and Women's Hospital. He then performed cardiothoracic and vascular surgery at Boston Medical Center and the University of Chicago. Dr. Katsnelson is credited as the first U.S. surgeon to perform the double implant of the Biocor™ stented tissue valve. His clinical areas of expertise include minimally invasive aortic and mitral valve surgery, complex aortic operations, re-operative coronary and valve surgery, and beating-heart (off-pump) bypass surgery. He is extensively published in various cardiac and venous conditions.
Dr. Katsnelson also started the Fibroids Fighters Foundation to advance the cause of women's health and the safe and effective treatment of uterine fibroids. A member of the American College of Phlebology and the Society of Thoracic Surgery, he is actively involved with Save a Child's Heart to provide life-saving cardiac treatment to children from developing countries. He also trains healthcare professionals.
Other Organizations
Founder of the Chicago Heart Institute
American Medical Association
American Vein and Lymphatic Society [American College of Phlebology]
Cardiothoracic Surgery Network [Chicago]
Chicagoland Association of Russian-speaking Physicians
Society of Thoracic Surgery
Honors and Awards
1990: Ural Medical Academy, Russia
2002: American Heart Saver, American Heart Association Award
2005: Nation's First Double Implant of New Tissue Heart Valve