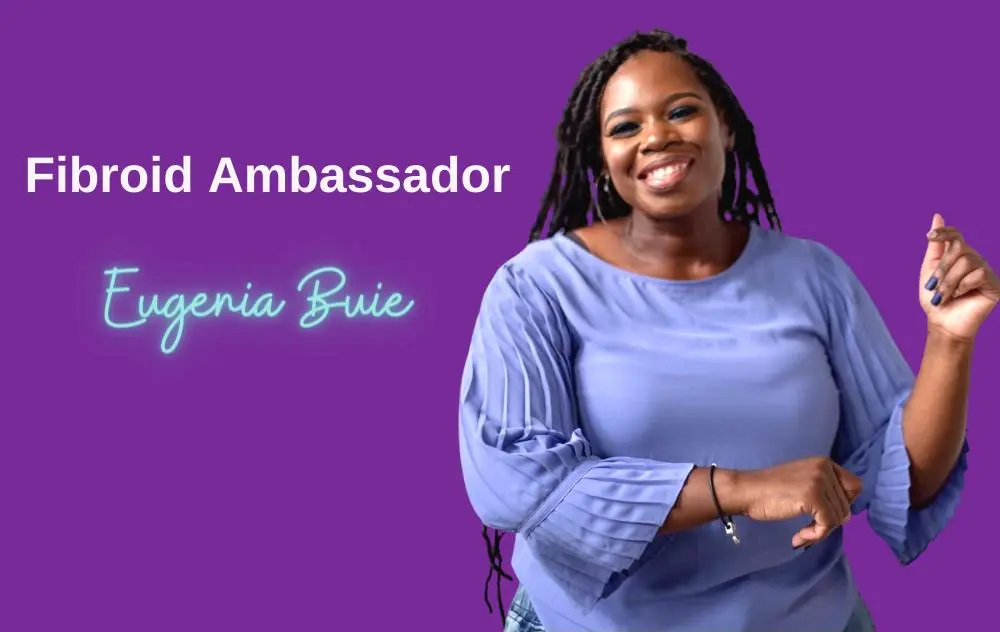 Friday, October 29th, 2021
Eugenia Buie is someone you know. Seven out of ten women in the U.S. have uterine fibroids, and Eugenia is one of them. An author and Founder of Overcomer's Ministry group Eugenia hosts a monthly "White Table Talk" on Facebook, which focuses on overcoming hardships, and recently the topic of conversation was her fibroids. Eugenia is joining USA Fibroid Centers as an Ambassador and sharing her fibroid story to help raise awareness so more women can have the information they need to get checked and treated for fibroids earlier.
Eugenia's Story
Eugenia's journey began when she got her first period at nine years old. Some people may not recognize this as a symptom of fibroids, but a 2013 research study found that menstruation before the age of 12 is associated with an increased risk of developing fibroids. By the age of 14, Eugenia's period was so heavy that she felt like she couldn't participate in sports or other activities because of the pain or for fear of having a bleeding accident. "I just had to deal with it in silence," remembers Eugenia. In fact, she suffered from heavy menstruation for a decade before she was diagnosed with fibroids at the age of 19.
American Journal of Epidemiology
Eugenia didn't have much of a reaction to her diagnosis because her doctor told her the fibroids weren't serious.  "She said there was nothing I needed to do about my fibroids right then, so I took it to heart." 
Her doctor suggested that Eugenia take low estrogen birth control and iron pills, as well as monitor her mental health to ensure fibroids weren't causing her too much stress. Eugenia says, "It was never explained to me how birth control and fibroids were connected, or how the iron pills might help my symptoms, so I chose not to take any of them." Up to 30% of women affected by uterine fibroids are also anemic, however, this correlation is not something many women are aware of due to lack of education about fibroids and their symptoms. 
Dr. Yan Katsnelton, CEO and founder of USA Fibroid Centers, says, "Fibroids are sometimes not diagnosed until a woman's symptoms have become severe and are impacting her life. By sharing her story, our Ambassador Eugenia is helping us encourage women to get checked for fibroids earlier, so they can get treated before symptoms cause pain or disrupt their lives."
Eugenia was in denial about her symptoms and her fibroids, even though she had been diagnosed. "This is my struggle. This is my fight. This is what I got to go through. So I'm just going to manage. I'm just going to deal with it," Eugenia said of her mental state after being diagnosed with fibroids. Eugenia had been suffering from heavy periods for nearly two decades. Then, when she reached her 30s, her cycles increased from seven to ten days. 
She attributed her heavy bleeding to the stress of being in college and working in a ministry. She blamed her pain and fatigue on being overwhelmed, not on anemia caused by her excessive bleeding. Instead of seeking treatment, Eugenia was so busy that she tried self-medicating to manage her symptoms. Her remedy was taking iron pills and drinking about three cups of coffee a day to keep her energy up.  
Her bleeding was causing accidents that limited her social life. She was tired of being afraid of having a bleeding accident, or the embarrassment she felt when one happened. Her anxiety over her bleeding also led to her going out less, which meant she couldn't participate fully in the ministry work she was so passionate about. 
However, Eugenia shares that her scariest symptom was passing out due to her anemia.When she was doing college tours, she would pass out randomly, talking with prospective students one minute and waking up alone and disoriented in her bed the next. "It wears on you mentally, and it wears on you emotionally. At that point, you don't want to do anything or go anywhere. It's just an overwhelming thing," says Eugenia about how she struggled with worsening symptoms from fibroids. "It all makes you wonder what's going on with you. It was a heightened feeling of needing control of what's going on with my body."
Eugenia's world came to a halt in March of 2021 when she had to have a blood transfusion because her anemia was causing dangerously low hemoglobin levels. Two days after her transfusion, Eugenia got a call saying, "You have to go to the emergency room right now: you have 13 fibroids." This time, Eugenia took it seriously, especially since healthcare providers were prioritizing critical cases due to COVID-19."While the world was in a pandemic, I was dealing with a personal epidemic," says Eugenia. 
She was about to learn, though, that she wasn't suffering alone.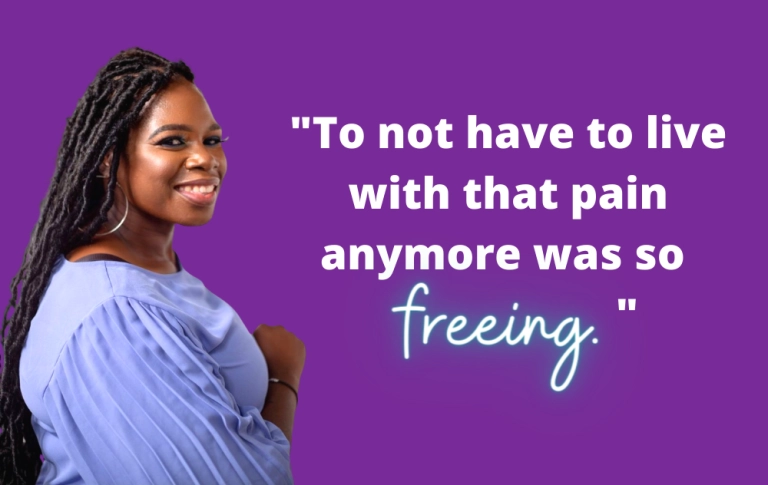 The Power of Sharing Stories
Eugenia was watching TV when she saw one of USA Fibroid Center's Ambassadors, Cynthia Bailey, talking about fibroids. Cynthia was talking to her then-husband about her symptoms, and how she thought it was important for men to understand fibroids just as much as women so more awareness could be spread for the disease. 
"Fibroids are an epidemic not only because they impact a shocking 26 million American women, but also because they have social and economic side effects in addition to their impact on women's health," Dr. Yan says about the importance of raising awareness for fibroids. 
When Eugenia heard Cynthia's story, it inspired her to become an Ambassador to help other women by talking about her experience with fibroids. "I think a lot of women can relate to my experience," says Eugenia. 
Women can empower other women suffering from fibroids to realize their treatment options and stop normalizing their symptoms by sharing about how they struggled with and overcame their fibroids. Our Ambassadors are making an impact by encouraging conversations, like the one Eugenia saw Cynthia having on national TV, that can spread information. In fact, it was from listening to Cynthia's experience that Eugenia learned about Uterine Fibroid Embolization (UFE) as a treatment option. 
Why UFE?
Eugenia was inspired to research UFE and chose it to treat her fibroids because, having never undergone any type of surgery, she wanted the least invasive and most painless procedure available. UFE is performed as an outpatient procedure, taking about 45 minutes, and allows patients to go home the same day. Unlike surgical options, like hysterectomy, UFE doesn't require general anesthesia or stitches, and won't cause scarring. Another benefit of UFE is the short recovery period. "I had my UFE on July 1, 2021, and only took six days to recover, but if I had undergone a hysterectomy, I would still be in pain and bed right now," says Eugenia. 
Eugenia was out and about just two days after her UFE, attending social events without worrying about her symptoms. "I went to go support my friend at a speaking engagement and the next day, I went to one of my close friends' daughter's christening," Eugenia shares. She was also surprised at how much UFE relieved her pain. "It was unbelievable because I was in so much pain before the procedure, and to not have to live with that pain anymore was so freeing," Eugenia says.
You Can Find Freedom With Us
If you're struggling with severe fibroid symptoms like Eugenia, it can seem unbelievable that anything might help. We want you to know there is hope, and that you don't have to go far or miss out on life by taking time off to get it! Take the first step towards freedom from suffering with fibroids by scheduling a consultation with one of our expert fibroid specialists. You may still be unsure if treatment is right for you, and that's Ok. We provide resources, like our newsletter, where you can learn about fibroids and make the best decision about treatment for your health and life. We are here to support you no matter where you are in your fibroid journey.