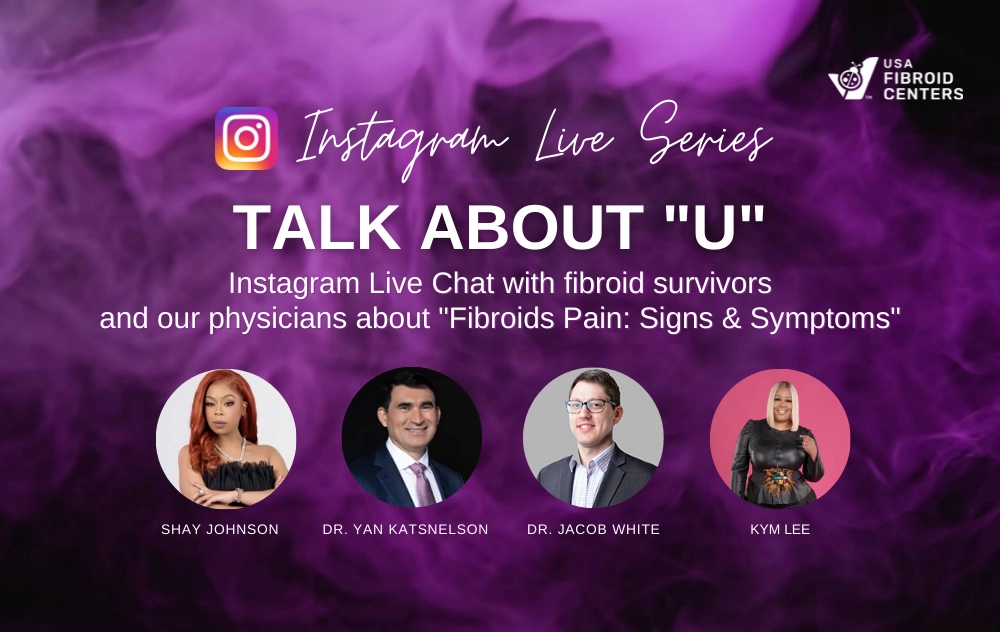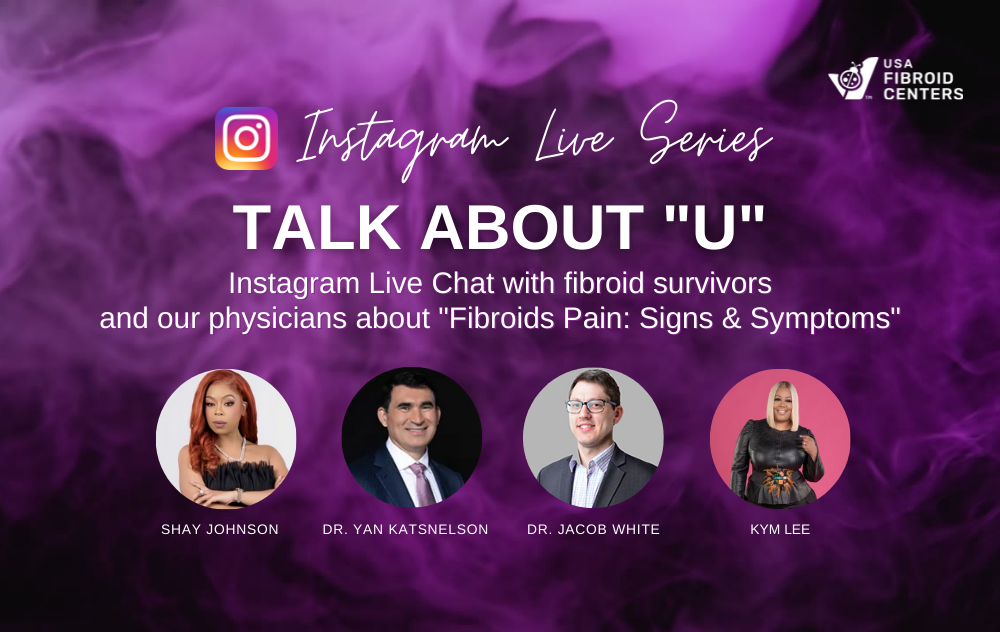 Friday, May 21st, 2021
If you missed our "Talk About U" Instagram Live on May 13th featuring Fibroid Ambassadors Shay Johnson and Kym Lee on the topic of Fibroid Pain: Signs and Symptoms, you can watch the whole discussion here!
USA Fibroid Centers is on a mission to end the stigma around talking about women's reproductive health, especially the topic of fibroids. Fibroids are non-cancerous tumors that grow within the uterus, and they can cause a range of symptoms—debilitating pain and severe bleeding being just a couple of them.
CEO and Co-Founder of USA Fibroid Centers, Dr. Yan Katsnelson, as well as Dr. Aaron Shiloh, M.D. FSIR, sit down to talk with Fibroid Centers Ambassadors Shay Johnson and Dr. Kym Lee in our "Talk About U"—the U meaning uterus—Instagram Live series to discuss fibroid symptoms, which are often stigmatized as "normal" and not talked about at all.
Most women, like Shay and Kym, ignore the first warning sign of fibroids: an increased length in menstrual periods. Shay experienced increasing pain over time and more frequent periods with progressively heavier bleeding, another common symptom of fibroids that is often ignored. Kym had a very similar experience, explaining that as she got older, her period started to become longer and longer until she bled for up to 21 days before she had a hysterectomy to treat her fibroids.
Kym explains that she never mentioned her severe bleeding to anyone because she thought it was normal to have such a heavy period, or as she states "the hand that God dealt" that she just had to live with. It wasn't until someone mentioned to her that the amount of bleeding and blood clots she experienced was in fact not normal, and she needed to seek out further evaluation to determine the cause of her symptoms.
Another symptom of fibroids that doesn't always get talked about is the mental and emotional aspect to having fibroids. Shay's fibroid symptoms drove her to isolate herself, as she explains that accidents kept her from going out. USA Fibroid Centers assesses every patient's emotional and mental health with a quality-of-life score, which allows our doctors to better understand how treatment resolves more than just physical symptoms for our patients.
Kym and Shay want women suffering from these symptoms to know that they're not alone and that they have choices when it comes to making decisions about their fibroid treatment. USA Fibroid Centers is a leading provider of Uterine Fibroid Embolization (UFE), a safe and effective fibroid treatment that doesn't require surgery and preserves a woman's uterus.
Dr. Katsnelson explains that "normalizing the abnormal" is very common for women who experience fibroid symptoms such as heavy bleeding, increased urination, and severe pain. His goal is to help women suffering from fibroids to find relief from their symptoms through minimally invasive treatment, and to raise awareness about the disease by encouraging women to talk about their symptoms.
If you have similar experiences as Shay and Kym, reach out to USA Fibroid Centers today to schedule an initial consultation. Our fibroid specialists will be able to determine the best course of treatment for your fibroids.