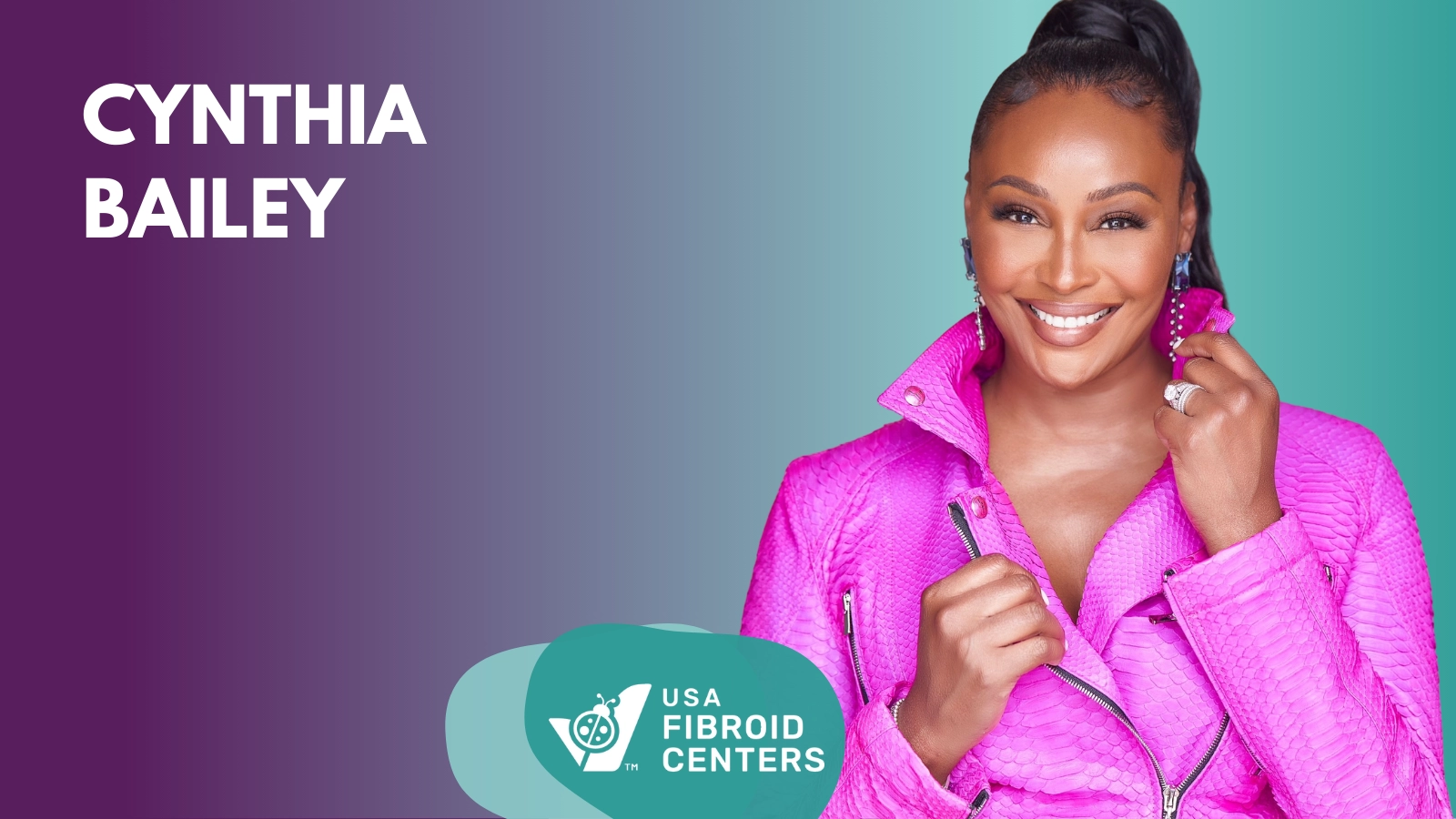 Wednesday, June 7th, 2023
A successful entrepreneur, Cynthia Bailey made television history as a member of one of the most iconic casts of the  Bravo TV Housewives franchise, Atlanta. During season six, she bravely allowed cameras to document part of her fibroid journey. Cynthia struggled with fibroids for over 14 years with severe symptoms before she received treatment. 
Cynthia's diagnosis was made when she was pregnant with her first daughter. Despite her doctor's recommendation to get a hysterectomy (a surgical procedure for removing your uterus), Cynthia researched all her options. She discovered uterine fibroid embolization (UFE) was the best option for her. Uterine fibroid embolization (UFE) is a minimally invasive outpatient surgery to treat fibroids. It does not require a hospital stay, sutures, or scars.
Going public with her uterine fibroid story on national television sparked nationwide dialog about the condition affecting 80 percent of women. Cynthia moved forward in her mission to educate women all around about the epidemic, symptoms, and treatments of uterine fibroids, making her a spokesperson amongst friends and castmates. Cynthia's advocacy did not stop there. She joined hands with USA Fibroid Centers as a fibroid ambassador to reach out to a bigger female population and raise awareness about uterine fibroids. Cynthia worked diligently to encourage women to check themselves regularly and be well-informed about their fibroid treatment options. 
Cynthia is committed to spreading the word about uterine fibroids that affect about 80 percent of women by age 50.
Here are some fun facts about Cynthia Bailey:
What is the one hidden talent or skill you have?
Many people don't know but I am an undercover artist. I love to paint and express myself in colors. The beauty of flowers and people's faces fascinates me and gets those creative juices flowing.
Do you have a favorite/comfort food?
I love to eat sushi. It's one thing I can eat daily—especially spicy tuna on crispy rice. Yum!
What do you enjoy the most of all the fantastic work you have done so far?
I have had an extensive career with diverse professional roles. I had the opportunity to experience the glamorous world of fashion, from walking the ramp to magazine covers to music videos. Then the reality tv show came by, which was a whole new experience altogether, and now there's acting. But I would say my favorite career moment is definitely being an actress.
Something that you are passionate about?
I love to cook. Experimenting and creating new recipes for family and friends makes me happy. I literally can cook anything. My favorite thing to make is potato salad.  It is my signature "go-to" creation for family dinners, so I consider myself the self-proclaimed potato salad queen.
How do you unwind after a busy day at work?
My favorite way to decompress is to Netflix & Chill. I love watching movies. If I had the time, I would watch ten movies daily. I enjoy the art of storytelling, which is the inspiration behind my becoming an actress.
What does family time look like for you?
I am all about board games when it comes to hanging out with family. I feel it's a playful and healthy way to bring everyone closer. Scrabble is my all-time favorite and pictionary because you can be artistic with a competitive edge.
Cynthia is one of our many fibroid ambassadors who inspire many women. An insight into their battle with uterine fibroids and their personal interests, likes, and dislikes make our ambassadors more relatable. This encourages women to break out of their shells, acquire proper information regarding fibroids and seek treatment. Cynthia's valuable experience and efforts as a fibroid ambassador for USA Fibroid Centers are commendable as she keeps spreading the message of hope and going strong.
Learn More About USA Fibroid Centers
If you suffer from symptoms like pelvic pain and prolonged or heavy menstrual cycles, it could be uterine fibroids. Contact USA Fibroid Centers to learn more about UFE. Schedule a consultation online to learn more about this condition or call 855.615.2555 to visit one of our facilities.