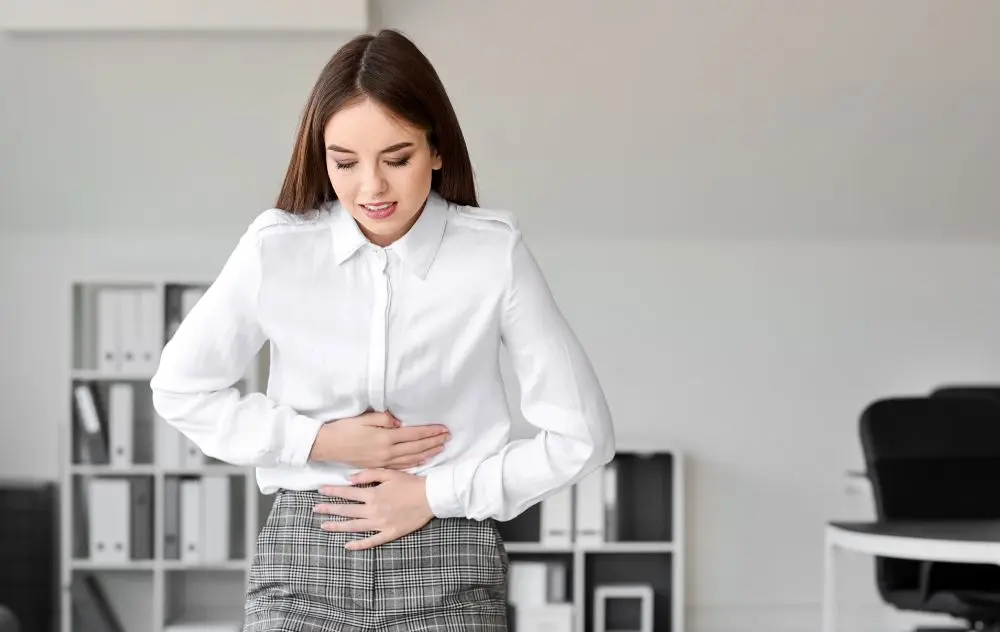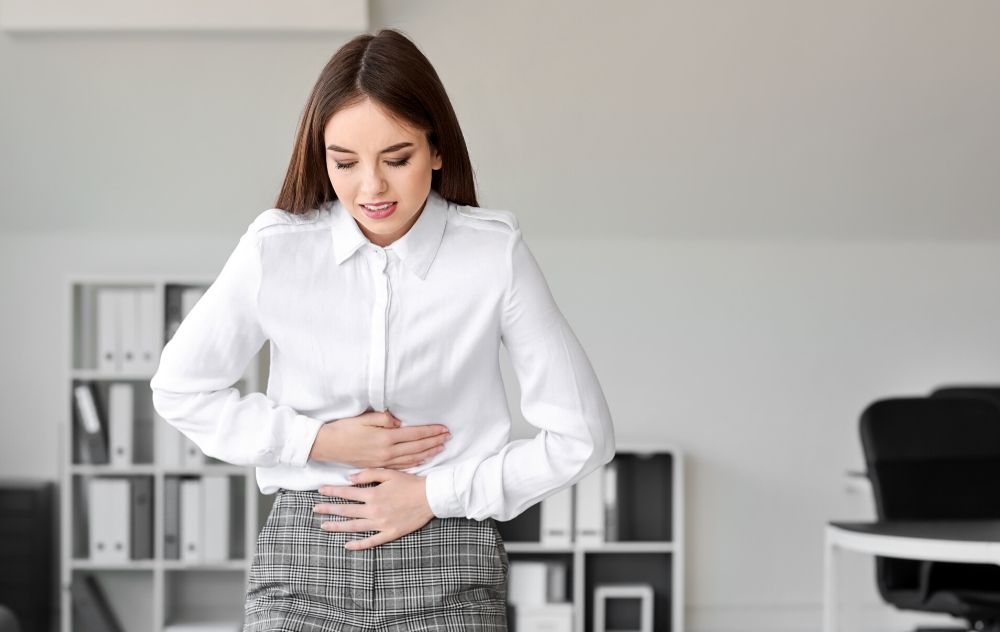 Thursday, March 19th, 2020
Are uterine fibroids keeping you from work? Dealing with symptoms such as severe pain, heavy bleeding, exhaustion, or frequent urination can take a toll on your life — especially in the workplace. Fibroids are common during the career-focused years, with up to 80% of women developing them by the age of 50. Although not all women experience their negative effects, fibroid symptoms may affect your work performance, hinder your concentration, and even keep you from going to work regularly. 
While living and working with fibroids can be a challenge, it doesn't have to keep you from living your life. If you've been struggling to control fibroid-related heavy bleeding and period cramps at work, there's help available. 
Our experts offer a non-surgical, minimally invasive, outpatient procedure called Uterine Fibroid Embolization (UFE) that will quickly have you back to work.
Read more: How to Deal With a Heavy Period at Work
Fibroids and Work
According to the American Psychological Association, our jobs influence our lives even outside the workplace. If you are a career woman, your work may define who you are and is probably one of the most important elements of your identity. A full-time career can be demanding and requires good health. 
Along with potentially missing entire days of work due to physical symptoms, you might also be irritable, grumpy, and generally unpleasant on the days you're there. After all, who wants to deal with heavy bleeding and period cramps at work? If fibroid symptoms are making it difficult for you to work because of emotions, mood, or anxiety, we recommend you seek treatment. Work relationships can be just as important as personal ones when building your career – so you'll want to take extra care to keep them positive.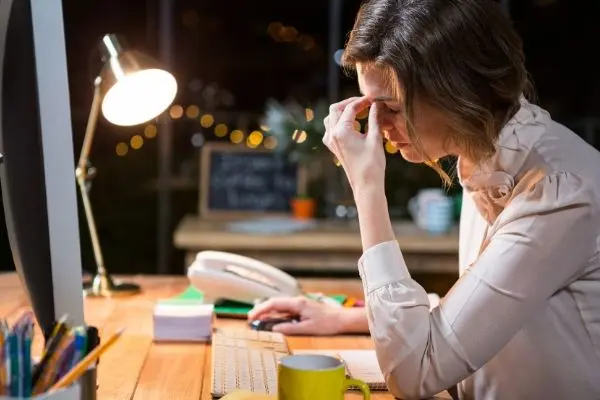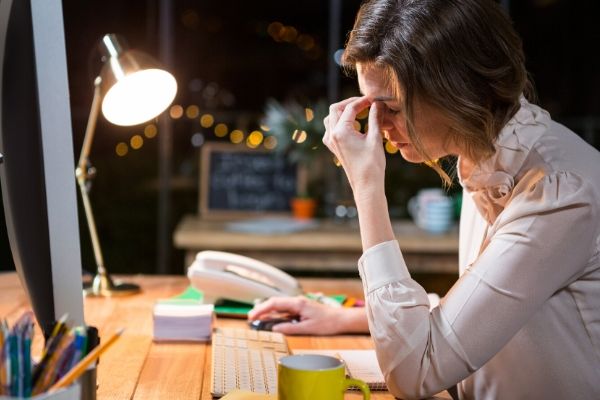 Because there is a lack of awareness surrounding fibroids –– a recent survey shows 28% of women have never heard of them –– some women find it helpful to speak openly about their condition with their boss and/or colleagues. If you'd like to get this conversation started, here are some things to keep in mind:
Spare them the intimate details, such as how many tampons you are going through during your work day, or how painful sex is with your partner

Offer to share an informative article that covers the basics about fibroids and common symptoms

Discuss the possibility of working from home during the heaviest or most painful days of your cycle
If you are considering treatment for your fibroids, this may also be a good time to arrange for some time off. Although one in five women believe a hysterectomy is their only option (which requires a six to eight-week recovery), the reality is that Uterine Fibroid Embolization is another effective treatment that has most patients back to work within one to two weeks.  
Fibroids and Labor: How Uterine Fibroids Keep Women From Work
Stop Heavy Periods and
Period Cramps at Work
We aim to support people suffering from fibroids, in their career journeys and beyond. We often hear from our patients that before Uterine Fibroid Embolization, they were forced to miss extensive days at work because their severe cramps, heavy periods, frequent urination, or lower back pain were extremely difficult to manage. If frequent issues with fibroid symptoms are eating up your sick days or keeping you from concentrating at work, it's time to get help.
Uterine fibroids can compromise workplace performance, according to a recent study. Out of 1,000 women, 66% were concerned about missed days from work due to fibroid symptoms, and 24% felt that their symptoms prevented them from reaching their career potential. 
Fibroids can impact even small things about working, like whether you feel comfortable wearing light-colored clothing. Many suffering from fibroids instead build a wardrobe around dark clothing that won't stain easily from blood. Frequent visits to the bathroom to change sanitary napkins and address the constant urge to urinate often can be time-consuming and embarrassing. Sometimes, fibroid pain can be so intense that it is impossible to avoid missing work. USA Fibroid Centers can help.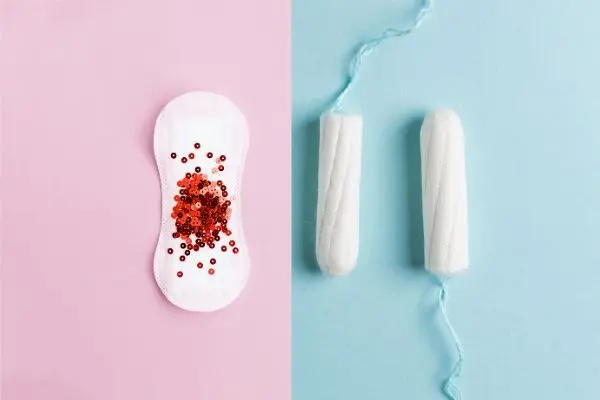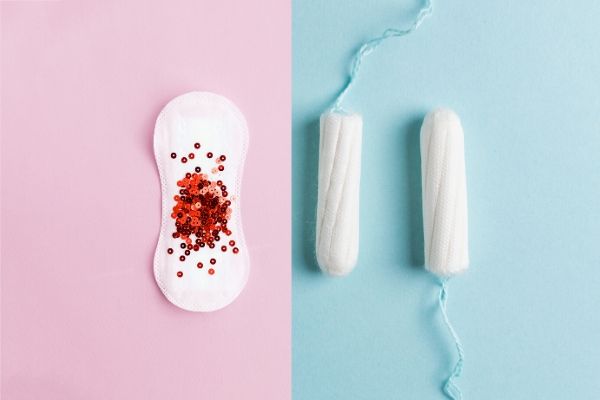 Along with looking into fibroid treatment options, we recommend keeping a "period survival kit" at work to help you remain comfortable and hopefully avoid potentially embarrassing situations. Consider including:
A supply of pads, tampons, and pantyliner

Extra clothing, including undergarments

Pain relievers such as Advil, Tylenol, or Naproxen

A hot water bottle or heating pad

Package of wipes to assist with cleaning up

Herbal tea, chocolate, and satisfying snacks
Read More: Do You Want to Be Career Woman of the Year?
Discover Non-Surgical Fibroid Treatment 
Our experts are available to answer all of your fibroid related questions, including "Can fibroids make you sick?", "Do fibroids affect emotions?, "Will fibroids drain energy?", and "How to deal with a heavy period at work?". At USA Fibroid Centers, we are committed to spreading awareness about the effects of uterine fibroids and the full range of treatment options available. With help, you can stop missing work due to heavy periods, pain, and other fibroid-related symptoms. 
Stop worrying about how to deal with a heavy period at work. Instead, schedule a consultation today with one of our expert interventional radiologists to learn more about our minimally invasive, non-surgical, outpatient fibroid treatment –– along with how to deal with your period at work. 
You'll soon discover how Uterine Fibroid Embolization (UFE) can alleviate your fibroid symptoms, get you back to work, and help you rediscover a normal, fulfilling life.