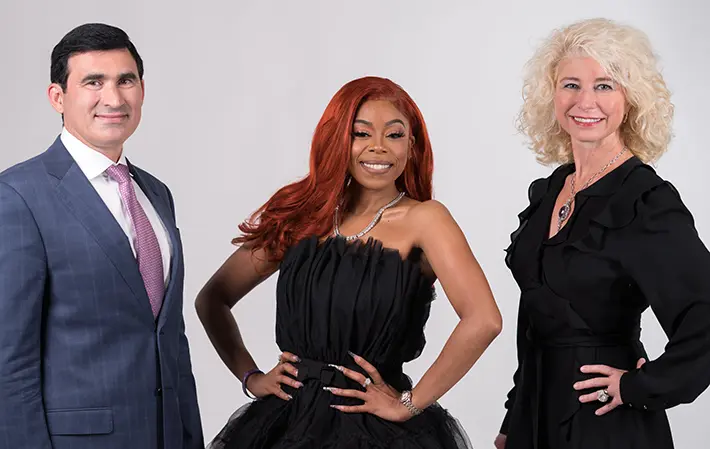 Monday, April 12th, 2021
Shay Johnson – actress, model, and fitness guru known for her reality TV presence on "Love and Hip-Hop Miami" and music video appearances – is the newest National Ambassador for USA Fibroid Centers. We are proud to have an advocate like Shay on our team to break the silence about fibroids and raise awareness for non-surgical treatment options.
Know Your Options
Shay's lack of options and awareness during her experience with fibroids drives her to share her story, so no other woman has to face fibroids uninformed. She believes that by raising awareness of fibroid treatments that are alternatives to surgery, we can help millions of women struggling in silence. "If you're unaware of your options, how do you know what to do? That's why I'm here," Shay said.
Shay wasn't aware of Uterine Fibroid Embolization (UFE) as a non-surgical treatment option until after having surgery for her fibroids and partnering with USA Fibroid Centers as a brand ambassador. UFE is an outpatient procedure that doesn't require surgery to remove fibroids and can relieve painful symptoms of fibroids. It also doesn't make the woman choose between her fertility or treatment, as UFE is a procedure that effectively preserves the uterus.
An estimated 80 percent of women in the United States will be affected with fibroids by the age of 50. However, many women who suffer from fibroids are not informed about UFE as an alternative to a hysterectomy. The disparity between the prevalence of uterine fibroids and the lack of information about a fertility-preserving option like UFE is alarming.
"Even though I had seen three doctors about my fibroids and reported severe symptoms to my doctor since I was a teenager, I had never heard of UFE," Shay said. "Why is that?" She is working with USA Fibroid Centers to make sure this gap in education about and access to UFE is closed. By knowing their options, women who suffer from fibroids can feel more confident pursuing treatment.
Shay's Story
Shay confides that she used to be terrified just saying the word "fibroids" because it would bring up memories of how difficult dealing with them was for her. She acknowledges the taboo around discussing women's menstruation and how it kept her isolated after her diagnosis. "I didn't know who to talk to," Shay said. By breaking this taboo and her silence, she is creating a new normal around discussions that can bring hope by spreading knowledge about treatment options.
While Shay noticed different symptoms with every menstrual cycle throughout her life, such as dizzy spells, constant urination, and heavy clots, it took a jarring experience for her to figure out what was impacting her health and well-being. Everything changed for Shay when she fainted and cut her head open when trying to get out of bed. At the hospital, when she told the nurse about her symptoms, the nurse said, "I'm 99 percent sure you have fibroids."
Like many women, Shay had never heard of fibroids and asked the nurse about them. The nurse told her that fibroids were "nothing" because they are common in women. "It was as if I should have been aware of something that no one had ever talked about," Shay said. Finding out that fibroids are common after enduring symptoms for so long made her feel that her pain was being dismissed – a feeling she never wants any other woman to have. Watch a video testimonial below from Shay.
Making a Change
Unfortunately, Shay's experience – including her feeling pressured to remain silent about her menstrual symptoms and her confusion about why she had never heard of fibroids – is just as common as fibroids themselves. USA Fibroid Centers partners with Shay to break this silence and further the goal of making education about and access to a non-surgical treatment option like UFE widespread.
We believe that by inspiring women to discuss their stories and symptoms of fibroids, they will seek out better treatment and care. Shay and Dr. Yan Katsnelson, founder of USA Fibroid Centers, aim to create urgency for initiatives that can educate women from earlier ages about fibroids and improve the healthcare system's current approach to treating fibroids.
"I didn't know my options, so I had surgery," Shay said. Since women are not informed of other treatment options, an estimated 300 hysterectomies performed in the U.S. each year are due to fibroids. Even more surprising is that 75 percent of all hysterectomies are medically unnecessary, meaning they did not meet the guidelines for a hysterectomy.
Awareness of and education about UFE can prevent women from choosing surgery, like Shay did, because they don't know any other option. It can also provide women who want to become mothers with the opportunity to get relief from their fibroids and have a child. Shay and USA Fibroid Centers are passionate about giving women options so they can choose what is best for themselves and their futures.
We're Here for You
If you relate to Shay's story, we can help you take the first step toward awareness so you can get the care and information about the options you deserve. Our uterine fibroid quiz can help you identify your symptoms. Also, our blog features a series on the common questions about fibroids. Our empathetic fibroid specialists are available to provide you a personalized consultation based on what you learn. USA Fibroid Centers is committed to putting you first, and we are going to be with you every step of your fibroid treatment and recovery journey. We offer both in-office and virtual visits to discuss the options that are right for you.