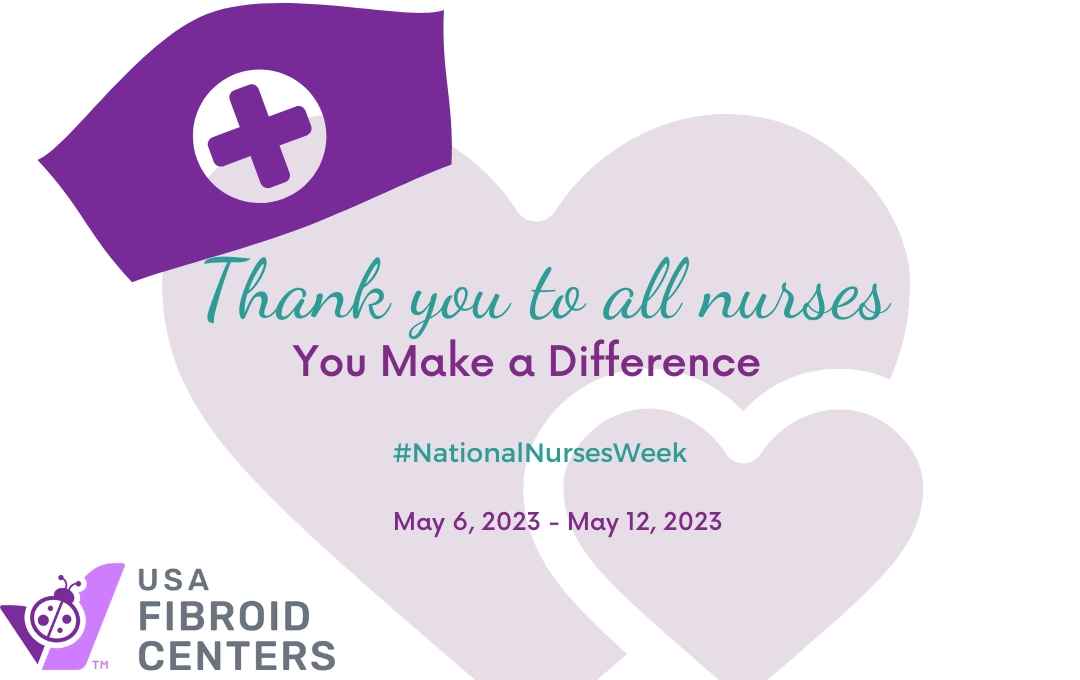 Sunday, May 7th, 2023
Nurses can easily be termed superheroes behind the scenes. This year, from May 6th to May 12th, the American Nurses Association and other nursing organizations observe National Nurses Week across the country to recognize and appreciate the dedication and service of nurses towards the medical field and their patients. 
As they continue to provide unwavering assistance, care, and value to the entire healthcare team, nurses stand shoulder-to-shoulder with doctors every step of the way. We, at USA Fibroid Centers, celebrate our nurses in honor of National Nurses Week. USA Fibroid Centers believes that their hard work and exceptional care help us achieve the highest rating for outpatient patient care.
Our nursing team is an integral part of providing top fibroid treatment known as uterine fibroid embolization (or uterine artery embolization). It provides relief from fibroids without the risks of invasive surgery. By eliminating the blood supply, UFE causes the fibroid to shrink and die, alleviating symptoms like heavy bleeding, frequent urination, painful sex, low energy, and pelvic pain. 
The doctors and nurses at USA Fibroid Centers have years of experience with UFE and have helped numerous women successfully treat their fibroid symptoms. 
What Do Our Patients Say
Latrina M from Southampton, P.A. left a testimonial that speaks volumes about the personalized care and dedication she received:
The whole entire staff was amazing ..everyone was professional, courteous, and welcoming. Dr. Shiloh and the nurse anesthesiologist made me feel comfortable. Nurse Shane, however, made me feel like family. Her demeanor, her pep talk about the procedure, and a much-needed talk about life left me feeling reinvigorated. Thank you. I will highly recommend any dealing with fibroids.
USA Fibroid Centers salute our nurses who have been an essential element of our healthcare workforce. We make sure that when you walk into our clinics, you are welcomed with a smile in a  comfortable environment. The team at USA Fibroid Centers strives to ensure that your treatment journey is efficient and smooth from the beginning to recovery. Our nurses make sure that they are able to connect with you for an improved care and treatment experience.
Learn more about how you can benefit from UFE, give us a call today at 855.615.255 or click the button below to request an initial consultation today.