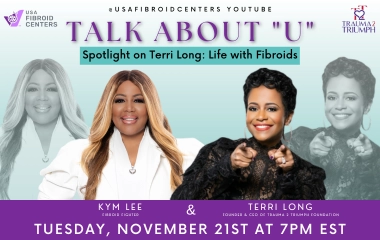 Spotlight on Terri Long
Join USA Fibroid Centers' Ambassador Kym Lee as she hosts Terri Long to talk about her fibroid journey.
Terri Long is the Founder & CEO of T2T Media LLC and Trauma 2 Triumph Foundation, which provides a platform for healing others through the sharing of real-life stories of transitioning from Trauma To Triumph.  These stories are being filmed as part of a docuseries with the intent to reach and heal millions of people.
Terri is also the Cohost/COO/Producer for Spotlight Over The City, a Washington DC area-based TV/Talk Show streaming internationally with over 12M streams and growing.  You can find Terri hosting Red Carpets for some of the most amazing events and also serving as an MC at many of these same events.
Prior to T2T Media and Spotlight Over The City, Terri spent most of her life in corporate America. She has over 25 years of experience as a Director of Benefits (health/life/disability insurance programs, Medicare expertise, healthcare exchange advisor, etc.) Terri is married to the CEO of Spotlight Over The City and Author Stan Long and she's a mom of 3 amazing children.
Join us:
Tuesday, November 21, 2023
7 P.M. Eastern Time
Talk About "U" is a safe place for women to have honest conversations about fibroids and how they affect every aspect of our overall well-being.
Follow us on Instagram to make sure you don't miss out!