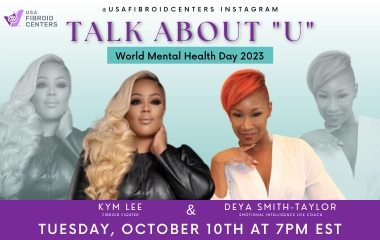 Talk About U: World Mental Health Day
Join USA Fibroid Centers' Ambassador Kym Lee as she hosts Deya Smith-Taylor for World Mental Health Day. They will be discussing fibroids, their symptoms, and treatment. Uterine fibroids affect millions of women worldwide.
Deya Smith-Taylor, also known as Deya Direct, is an experienced media professional, author, and life coach, specializing in social and emotional intelligence. She is also the executive producer of the SuperpowHer Podcast and the brain behind The Super Self-Care Power Summit. Deya is a strong advocate for self-care and emotional well-being. Recently, she established the Super Self-Care Project, a non-profit aimed at empowering women facing challenging life transitions through curated content, events, and services. Deya's career history also includes roles at the American Heart Association and the Tom Joyner Morning Show. She is committed to creating transformative content that positively impacts lives. 
Join us: 
Tuesday, October 10, 2023 
7 P.M. Eastern Time
Talk About "U" is a safe place for women to have honest conversations about fibroids and how they affect every aspect of our overall well-being.
Follow us on Instagram to make sure you don't miss out!