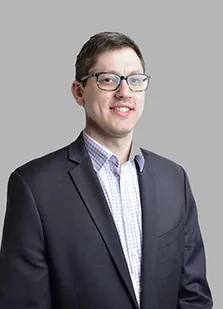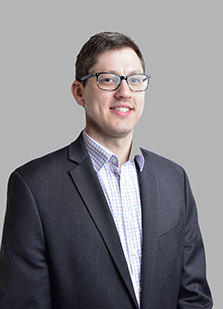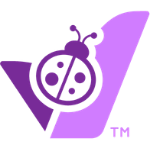 Jacob White, M.D.
Licensure and Certification
January 2016: Registered Physician in Vascular Interpretation (RPVI) Exam (Passed), ARDMS/APCA certification #196149
June 2015: American Board of Radiology Core Exam (Passed)
#336101298: Unrestricted Illinois State Medical License
#264822: Unrestricted New York State Medical License
#1386969210: National Provider Identifier
BLS/ACLS certified through the American Heart Association
Honors and Awards
June 2016: Excellence in Interventional Radiology from Drexel/Hahnemann Interventional Radiology
2014–2015: Chief Resident at Drexel/Hahnemann Interventional Radiology
2013 RSNA Annual Meeting: Introduction to Academic Radiology Program Graduate
Professional Affiliations
Society of Interventional Radiology
American Registry for Diagnostic Medical Sonography
American College of Radiology
Biography
About Jacob White, M.D.
Dr. Jacob White has been studying and practicing vascular and interventional radiology for over 10 years. He has conducted research at Drexel Hahnemann University Hospital Radiology, Georgetown University Hospital Radiology, and National Institutes of Health Radiology. He also contributed knowledge to the medical academy through a multitude of presentations and publications in medical journals.
Dr. White is also an avid innovator and businessman, having co-founded Advantageous Systems LLC and founded The Smoking Lung organization.  He enjoys spending time with his wife and two sons, traveling, sports, cooking, reading, and volunteer work. Dr. White is featured on our "Ask the Doctor" blogs, answering our patients' most pressing questions about uterine fibroid treatment.
Visit One of The Best Fibroid Specialists in NYC
As a specialist who treats uterine fibroids at our White Plains Rd, St. Nicholas Ave, and Valley Stream, New York locations, Dr. White has years of experience performing uterine fibroid embolization (UFE). UFE is a non-surgical, outpatient procedure that embolizes the arteries, blocking blood flow to the fibroids and causing them to shrink. If you are looking for the best uterine fibroid specialist in New Yok, schedule an initial consultation with Dr. White. He has earned numerous honors and awards as a top radiologist. Dr. White practices at USA Fibroid Centers in NYC – the Bronx, Manhattan, Brooklyn, and Long Island, where he offers fibroid treatment without surgery that allows for the preservation of the uterus. At our comfortable state-of-the-art fibroid clinics in NYC, we offer the highest level of patient care. Don't suffer in pain anymore, visit one of our fibroid centers in New York to find relief from debilitating fibroid symptoms. Give us a call today at 855.615.2555 to schedule or you can schedule your appointment online with a fibroid specialist like Dr. White. 
What People Are Saying About Dr. White
I had to write a review about my experience with UFE. Dr. Jacob White is amazing! He's the sweetest doctor and the team was also awesome. You're probably going through the same feelings I was going through before the procedure started: nervous, scared and anxious. The procedure was so simple, and for me, it wasn't painful at all. I couldn't believe how quick this was! So, I had to write a review for the ladies who might be feeling the same way I was. You have nothing to worry about. The staff is amazing and the procedure is literally a walk in the park. Thank you so much. I'm so happy I made the decision to get this done. Thank you, thank you Dr. White!