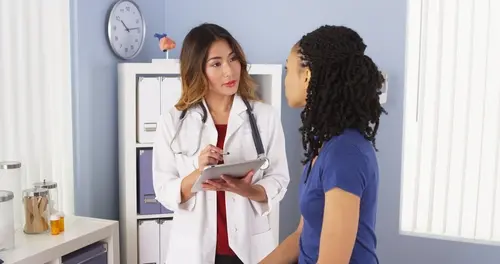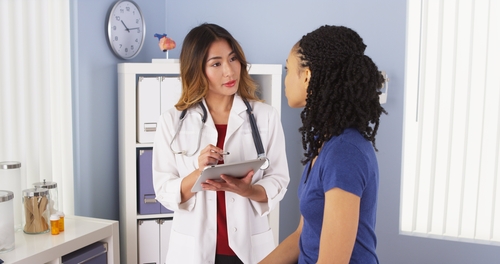 Friday, December 23rd, 2022
Going to the doctor, especially for the first time, can be uncomfortable – especially if you have uterine fibroids. How do you ask your fibroid doctor uncomfortable questions? Sometimes women can freeze up, feel too awkward to ask questions about their sexual organs, or just don't know what to say. All of this happens naturally and it's okay to feel this way. 
You may also wonder what type of doctor treats fibroids. In addition to your healthcare practitioner or gynecologist, there are physicians that specialize in fibroids and treatments. fibroid doctor is called a fibroid specialist. Fibroid specialists are interventional radiologists who receive additional training in the treatment of uterine fibroids.
To help combat this, we've compiled a list of questions your fibroid doctor should be answering – either on their own or from your prompts. 
GENERAL QUESTIONS TO ASK YOUR FIBROID DOCTOR
Are uterine fibroids cancerous?

Can I get pregnant with fibroids?

Are fibroids dangerous?

Is spotting normal?

Is breast pain normal?

Is my period too heavy?

Why do I have to pee so often?

How big are my fibroids?

Do fibroids cause infertility? 

Is my stomach bulge a sign of fibroids?

Can I prevent fibroids?

Where are my fibroids located?

Will my fibroids grow?

How will I know if they're growing?

What's the best way to track the state of my fibroids?

Will I die from fibroids?
QUESTIONS FOR YOUR FIBROID DOCTOR ABOUT THE PROCEDURES AND TREATMENT
How does recovery after UFE differ from hysterectomies or myomectomies?

Will treatment hurt?

What's the best procedure for me?

What treatment will preserve my fertility? 

Do I need treatment?

What happens if I don't get treatment?

Are there non-surgical treatment options?
TEN QUESTIONS TO ASK ABOUT UTERINE FIBROID EMBOLIZATION (UFE)
UFE stands for Uterine Fibroid Embolization. A UFE procedure for fibroid treatment is a minimally invasive solution for symptomatic fibroids. During this procedure, a doctor will locate your fibroids using advanced ultrasound. They will then insert a tiny catheter through a very small incision-either in the wrist or groin.
Using the ultrasound as a guide the catheter is threaded in to the uterine artery that supplies blood to the fibroid. Small particles will flow through the catheter and block the arteries and blood flow, this causes the fibroid to shrink and eventually die. The treatment takes approximately 60 to 90 minutes and is performed as an outpatient procedure.
What is UFE?
How do I  know if I am a good candidate for UFE?
How long is the Recovery?
How do I prep for UFE?
What is the UFE success rate?
Is UFE safe?
What can I expect after UFE?
Will I have scars?
Is UFE approved by the FDA?
Is UFE covered by insurance?
Here is a guide that can help you learn more about the questions you should ask about UFE treatment.
QUESTIONS ABOUT AFTERCARE
What's the healing time for all possible treatments?

Can I have sex after treatment?

What can I do to manage pain?

When should I call a doctor?

Can I exercise?

Can I shower? Can I take a bath?
WHAT YOU SHOULD KNOW ABOUT UTERINE FIBROIDS
Uterine fibroids share common symptoms with other conditions, such as having cysts or tumors. It's important to go to your doctor and get all your questions answered, no matter how awkward they can be. 
If you have been diagnosed with uterine fibroids, the good news is that effective, minimally invasive treatment is available to relieve your symptoms. Unfortunately, many women feel that the only option for therapy is a hysterectomy, which is the surgical removal of the uterus. Others believe that myomectomy, or the surgical removal of fibroids, is their best option. Neither of these assumptions is likely to be correct.
Uterine Fibroid Embolization is a non-surgical, outpatient treatment available at USA Fibroid Centers (UFE). UFE can shrink your fibroids, relieve your symptoms, preserve your uterus, and get you back to your normal daily activities as soon as possible. The procedure takes less than an hour, and most women recover completely within one to two weeks.
Schedule an Appointment at USA Fibroid Centers Today to Ask A Fibroid Doctor Questions!

We are passionate about women's health at USA Fibroid Centers. Schedule an appointment online with one of our leading fibroid doctors today to learn more about fibroids and Uterine Fibroid Embolization.
We have dozens of clinic locations across the country to ensure accessing quality fibroid treatment is near you.. We also want you to know that most major health insurance plans cover fibroid treatment.
Don't just put up with painful fibroid symptoms. We look forward to assisting you in regaining control of your life!
RELATED CONTENT: