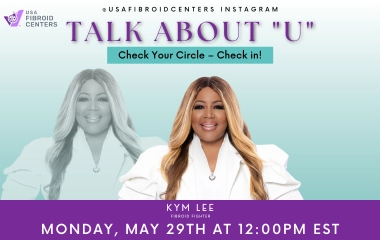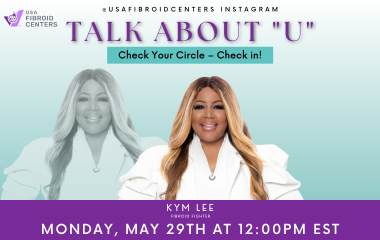 Check Your Circle "Check in!"
Talk About "U" is a safe place for women to have honest conversations about fibroids and how they affect every aspect of our overall well-being.
Memorial Day is the official start of the summer season. Kym Lee remembers how frustrating this time of the year was for her. The cookouts and gatherings she did not want to miss were easy to pass up when dealing with the horrible symptoms she experienced with her fibroids.
Join us on our Instagram Live:
Monday, May 29
12:00 Noon [EST]
FREE FIBROID SCREENING
In May, USA Fibroid Centers offers a free fibroid screening to help women confirm or discover a fibroid diagnosis. Women interested in receiving a free screening should call 855-615-2555 and use the words "free screening" when scheduling their appointment.  
 For more information about fibroids and treatment, visit USA Fibroid Centers.com or call 855-612-2525.