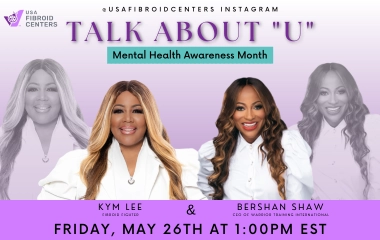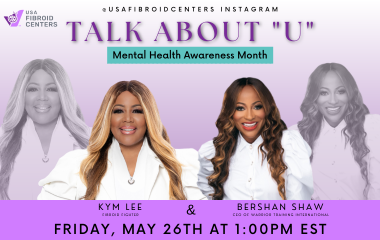 Fibroids and Mental Health Awareness Month
Talk About "U" is a safe place for women to have honest conversations about fibroids and how they affect every aspect of our overall well-being.
This month, join Fibroid Ambassador Kym Lee and Bershan Shaw, CEO of Warrior Training International, to discuss uterine fibroids' toll on women's mental health.
Join us on our Instagram Live:
Friday, May 26 at 1:00 p.m. [EST}
Free Fibroid Screening
In May, USA Fibroid Centers offers a free fibroid screening to help women confirm or discover a fibroid diagnosis. Women interested in receiving a free screening should call 855-615-2555 and use the words "free screening" when scheduling their appointment.  
 For more information about fibroids and treatment, visit USA Fibroid Centers.com or call 855-612-2525.