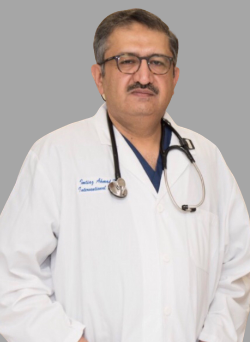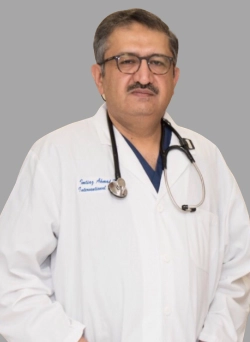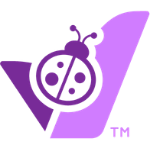 Imtiaz Ahmad, M.D.
Licensure and Certifications
State of New York # 243670
State of California #A75702
State of New Jersey # Ma69993
State of Illinois # 036-096674
State of Ohio #35.088552
State of Idaho #M-9997
State of Indiana # 99024420
State of Michigan #4301089775
State of Pennsylvania #Md432257
State of Tennessee #41988
Dea1 (Ny) Ba7346136
Dea2 (Nj) Fa 3044548
Professional Affiliations 
Radiological Society of North America
California Radiological Society
American College of Radiology
Society of Interventional Radiology
American Medical Association
Biography
About Imtiaz Ahmad, M.D.
Dr. Imtiaz Ahmad, Director of Interventional Pain & Spine and Bariatric Interventions, has been practicing in the health care industry for the last 20 years. In 1995, he completed his fellowship at Northwestern University for Nuclear Radiology. He then went on to complete his residency in 1997 at the University of Medicine and Dentistry of New Jersey. There he focused on Diagnostic Radiology. In 2000, Dr. Ahmad went to University of Ottawa to complete another fellowship for Vascular and Interventional/Neurointerventional Radiology.
Dr. Ahmad has practiced at numerous reputable clinics, including Cleveland Clinic in 2006 and JFK Memorial Hospital in 2004. He has also worked as an Interventional Radiologist at University of California – San Francisco from 2007 to 2008. For the last four years he has been working as a Clinical Assistant Professor of Radiology at New York Medical College. Dr. Ahmad has also been awarded several prestigious titles including Chief Resident at Northwestern University Feinberg School of Medicine in 1997, Best Resident Award in 1999 from University of Medicine and Dentistry of New Jersey-New Jersey Medical School, and Chief Resident in Surgery from Rawalpindi Medical College.
Dr. Ahmad is fluent in several languages, including Urdu, Arabic, Punjabi, Hindi, and English.
Best Fibroid Specialist in Yonkers
At USA Fibroid Centers, we provide a variety of the latest non-surgical treatments for women struggling with uterine fibroids. Our highly skilled Vascular and Interventional/Neurointerventional Radiologist, Dr. Ahmad is among the top fibroid experts offering our patient-focused uterine fibroid treatment in Yonkers. He has been in practice for more than 20 years treating women with fibroids through the most advanced minimally-invasive treatment methods. You can expect the highest quality care from Dr. Ahmad at our highly-rated fibroid clinic in Yonkers, as well as at any of our clinics nationwide. If you need fibroid specialists in Yonkers or the Bronx, we are happy to schedule you an appointment with Dr. Ahmad.