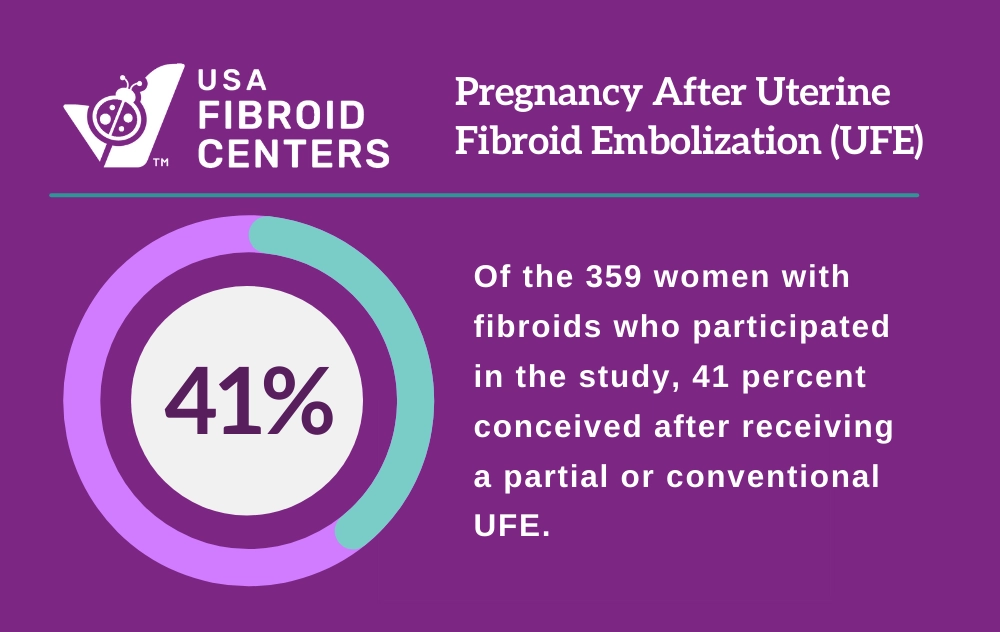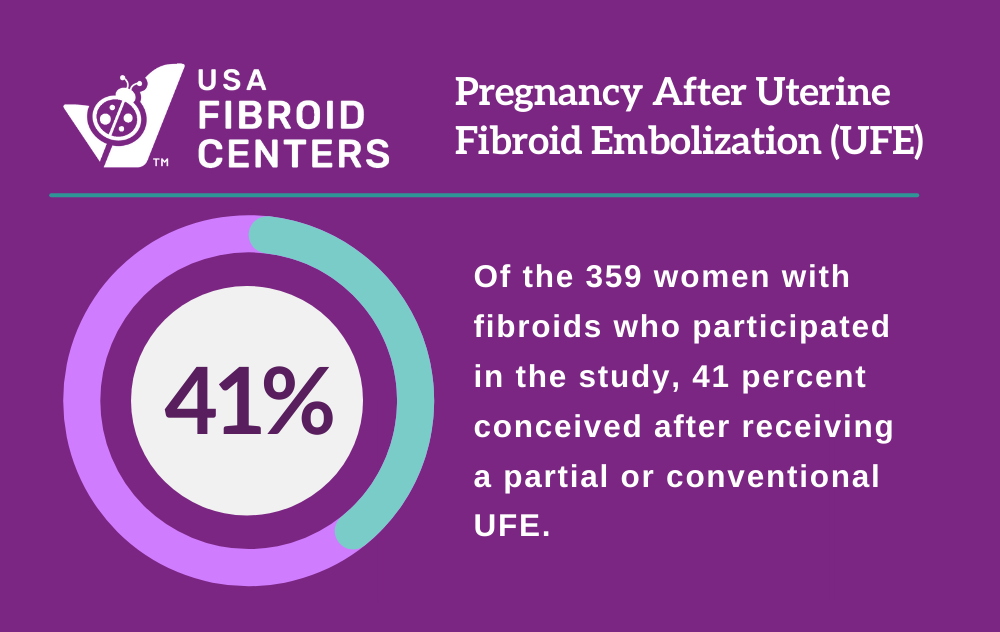 Tuesday, April 20th, 2021
A recent study published in the journal Radiology found that conventional and partial Uterine Fibroid Embolization (UFE) may be a safe and effective treatment option for women with fibroids who want to conceive1.
At USA Fibroid Centers, we want you to know that you have options when considering treatment for your fibroids. Many women are told that hysterectomy, the surgical removal of the uterus, is the only treatment option.
We aim to educate women about all fibroid treatments, both surgical and non-surgical, so they can make the most informed decision about their health and well-being. We've summarized the study and its findings in the infographic below, and you can click to download it.
The purpose of the study was to determine pregnancy rates after conventional and partial UFE, because women who suffer from fibroids often have questions about getting pregnant. Our doctors specialize in interventional radiology, a field of medicine that uses imaging techniques to diagnose and treat conditions like fibroids without surgery.
Our experienced interventional radiologists perform UFE – an FDA-approved, minimally invasive procedure – to treat fibroids. UFE is non-surgical, so you won't have to stay in the hospital, undergo anesthesia, or deal with stitches. It is a targeted treatment that leaves your uterus and other organs intact, which avoids the risk of triggering early menopause or other hormone conditions and the loss of fertility.
About USA Fibroid Centers
USA Fibroid Centers is the leading provider of minimally invasive fibroid treatment with an extensive national network of centers. Our mission is to provide personalized, non-surgical treatment for fibroids using an advanced UFE procedure. We are dedicated to raising awareness of UFE as a treatment option and encouraging more conversation about fibroids.
1. radiology.rsna.org. Radiology: Volume 285: Number 1. October 2017.