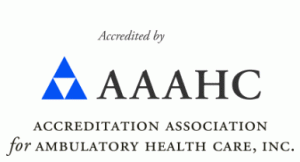 Fibroid Treatment in Philadelphia, Pennsylvania
Are you suffering from painful, uncomfortable, and inconvenient uterine fibroid symptoms like heavy bleeding, severe cramps, and frequent urination? If so, we want you to know that we offer specialized uterine fibroid treatment in Philadelphia, Pennsylvania. 
At USA Fibroid Centers, our experts aim to educate women on all available options so they can make an informed treatment decision. Although many believe that a hysterectomy, the complete surgical removal of the uterus, is the only fibroid treatment option, this isn't true. 
Our fibroid specialists perform a minimally-invasive, outpatient treatment called Uterine Fibroid Embolization (UFE). UFE can preserve your uterus, reduce or eliminate fibroid symptoms, and get you back to your everyday activities. 
If you fear a lengthy recovery, there's no need to worry. When you have state-of-the-art fibroid treatment in Philadelphia, Pennsylvania, at USA Fibroid Centers, it takes about 30-45 minutes and involves only a short recovery of one to two weeks.
"My quality of life is so much better now after my procedure. I now have 0 symptoms, my mood has improved, and even my heavy bleeding is gone now too. Keep doing what you're doing!" – Yvonne C.
Non Surgical Philadelphia, Pennsylvania, Uterine Fibroid Treatment 
If fibroid symptoms are negatively impacting your career, relationships, or self-esteem, it is probably time to take action. Our uterine fibroid treatment in Philadelphia, Pennsylvania, allows the vast majority of women to quickly take back control of their lives. 
During Uterine Fibroid Embolization:
You will receive a light sedative and local anesthetic, so you remain calm and comfortable throughout the procedure

Using ultrasound guidance, your doctor will locate your fibroid(s) and insert a tiny catheter into your numbed upper thigh

Next, embolic materials will be injected into the main artery that leads to your fibroid

These embolic materials will block the fibroid's blood supply and nutrients, causing it to wither away over time

After a brief, post-treatment observation period, you can go home to begin your recovery
Whether you are looking for state-of-the-art facilities and minimally-invasive treatment, we encourage you to visit our clinic. We are in the Rhawnhurst area of Northeast Philadelphia, not far from Pennypack Park.
Looking for a Philadelphia, Pennsylvania, Fibroid Specialist? 
At USA Fibroid Centers, you can discover a highly-rated fibroid doctors who will provide you with world-class fibroid medical care. Our doctors have years of experience with Uterine Fibroid Embolization and have a patient first approach.

Our Fibroid Doctors
Beginning Your Fibroid Treatment in Philadelphia, PA, on Bustleton Ave.

USA Fibroid Centers in Philadelphia provides world-class fibroid treatment in state-of-the-art facilities. Our team of Philadelphia fibroid specialists have committed themselves to providing a full-service treatment with care and compassion. Come visit us to learn more about our treatment options.
Our medical team is honored to serve the Philadelphia, PA area, and are available to address any questions or concerns you might have during or after your consultation. We are committed to providing you the best Philadelphia fibroid treatment available.
How to Prepare for your Visit
Confirm your Insurance Coverage
At USA Fibroid Centers, we are available to help you understand your insurance coverage and maximize your benefits. Our specialists are trained to help you get the most out of your insurance while guiding you through the process. Our list of providers is on our insurance benefits page. If you don't see your provider, or have any questions, please give us a call at 267.823.8487. We also offer affordable self pay options. Nosotras hablamos español.

How to Get to Our Philadelphia, Pennsylvania, USA Fibroid Center Location
You can find our Philadelphia, Pennsylvania, fibroid treatment clinic just north of where Bustleton Avenue intersects Strahle Street.
Nearby areas we serve include:
Downtown Philadelphia

Fox Chase

Mayfair

Oak Lane

Torresdale
Fibroid treatment clinic near downtown Philadelphia: If you're coming from the downtown area, take I-95 North 8 minutes to the Cottman Avenue exit. We are located another 14 minutes further north once you turn off the freeway.
Fibroid treatment clinic near Fox Chase: We are a short, 7-minute drive away when you head southeast along Rhawn Street from Fox Chase. From there, turn left on Loretto. We are just past Bell's Market. 
Fibroid treatment clinic near Mayfair: You can arrive at our clinic in about 9 minutes when you take Roosevelt north, turn left on Strahle, and then right on Bustleton. 
Fibroid treatment clinic near Oak Lane: You can reach our clinic after a 20-minute drive east of Oak Lane, along Cottman Avenue.
Fibroid treatment clinic near Torresdale: Our clinic is about 3.4 miles west of Torresdale. You can enjoy the short drive along Holme Avenue past Pennypack Park. 
Book Your Fibroid Treatment Near You Today 
No matter what part of town you are coming from, it is easy to discover the benefits of Uterine Fibroid Embolization at our Philadelphia, Pennsylvania, uterine fibroids treatment clinic. 
To get started, schedule an appointment online, call 267.823.2555, or simply stop by our office today!