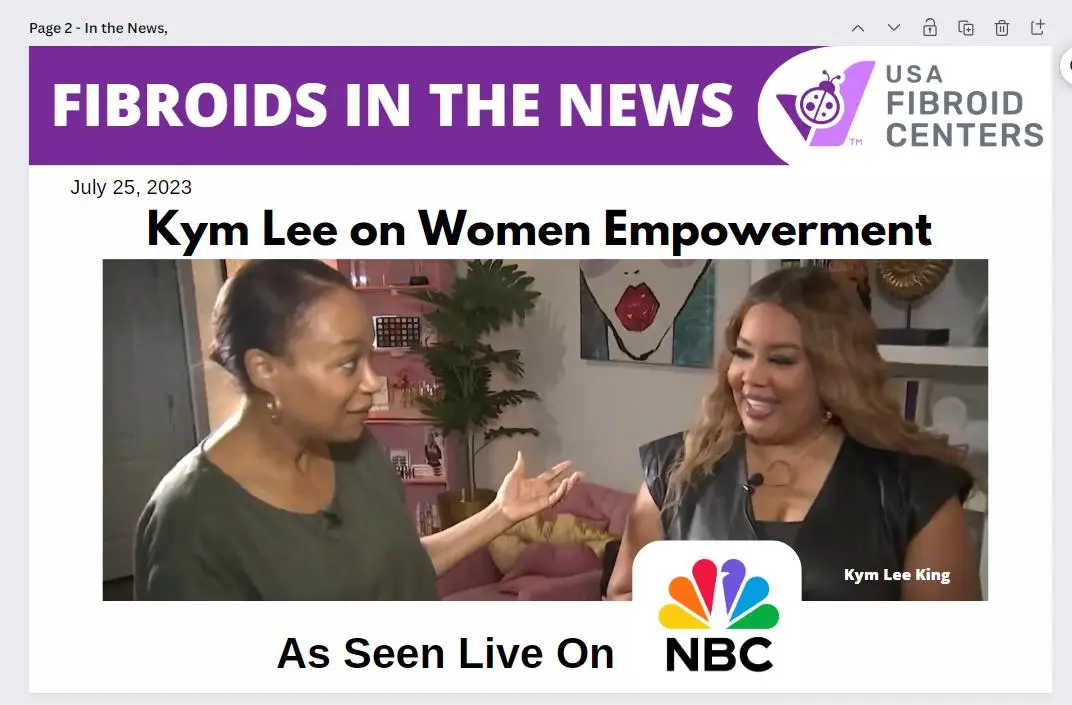 Friday, September 29th, 2023
Kym Lee, an Ambassador for USA Fibroid Centers, was recently featured in an NBC 4 Washington broadcast focusing on local women entrepreneurs and their impact in the community. Lee, who recently did the makeup for White Press Secretary Karine Jean-Pierre's October issue of Vogue, has.  Kym Lee has a long list of celebrity clients, including her best-selling book: Brain Beauty for which Angela Basset wrote the forward.  But Kym was recognized by NBC for her efforts to empower the everyday woman, which includes raising awareness around fibroid disease.
 Earlier this year, Lee was honored with the 2023 Fibroid Fighter of the Year Award at the "50 Shades of Purple" fibroid awareness event, sponsored by USA Fibroid Centers.  
Having navigated her journey with fibroids, Kym Lee hosts "Talk About U," a program on Instagram Live that encourages meaningful discussions about fibroids and their symptoms. 
Fibroids are benign (non-cancerous) tumors that grow in the uterus. They are the most common type of tumor in the female reproductive system, affecting up to 80% of women by the time they reach menopause. 
Lee's objective is to let women know that the first line of treatment for fibroids should not be surgery. USA Fibroid Centers' fibroid specialists are skilled interventional radiologists who specialize in the nonsurgical fibroid treatment known as uterine fibroid embolization (UFE).
Lee has interviewed guests on Talk About "U"  that have included American TV personality Bevy Smith, DJ Heat, actors Shay Johnson, Cynthia and Malorie Bailey, and medical experts from USA Fibroid Centers. 
Read the NBC4 Washington Broadcast transcript below:
Adam Tuss 
October is National Women's Small Business Month 
Molette Green 
It's a chance to focus on local women entrepreneurs and their impact in the community. Kym Lee's tens of thousands of social media followers are transfixed on her celebrity clients. But Kym is homegrown to support the everyday woman.  
Kym Lee  
This is really called an ombre look… 
Green 
It's the glitz and glamourous lifestyle of Kym Lee. A local makeup artist with an A-list clientele. Including this glam, for White Press Secretary Karine Jean-Pierre's October issue of Vogue.  
That's pretty extraordinary.  
Lee 
It was very extraordinary, and especially since she is such a beautiful woman and has done so much for our community. And because she's doing so much for our country, says Lee. Our whole motto or mantra is we want to create a fast face with a Hollywood finish. As much as I like the A-List woman, the everyday woman is my jam. 
Green 
In her home office, a splash of neon lights up "Wink and Pout", the name of her beauty line.  
Lee 
I taught women during COVID how to do their makeup and sold them the makeup. When we came out of COVID was doing their makeup. So, it is really a continuum.  
Green 
Her beauty brand includes a ten-chapter book.  
Lee 
Oh, I have a book called Brain Beauty, it's a bestseller, and Angela Basset wrote the forward to it. I did a chapter in the book called "evolving." I left law school to do this.  
Green 
Beyond makeup lessons her support for women health to no longer suffer from fibroids, like she did.  
Lee 
I'm a national ambassador for USA Fibroid Centers, and several of us in the community, people that are working tirelessly to get this message out. You do not have to suffer in silence. 
Green 
Firestarter is the childhood nickname Kym Lee embraces. That also describes the girl born in Baltimore, raised in Northwest D.C. and Prince Georges County, who is her own unique brand of success.  
Lee 
After all this time, over 25 years of doing this, it never gets old. So, it's so important to me to make impact whatever I do. Even if it's touches lives of those in the community or touching lives of high performing woman who I am assigned to. I know I am assigned to high performing woman.  
Green 
That's an important thing.  
Yes, it is. She is largely self-taught, which says a lot about making your mark in a competitive business.  
Watch the broadcast here.