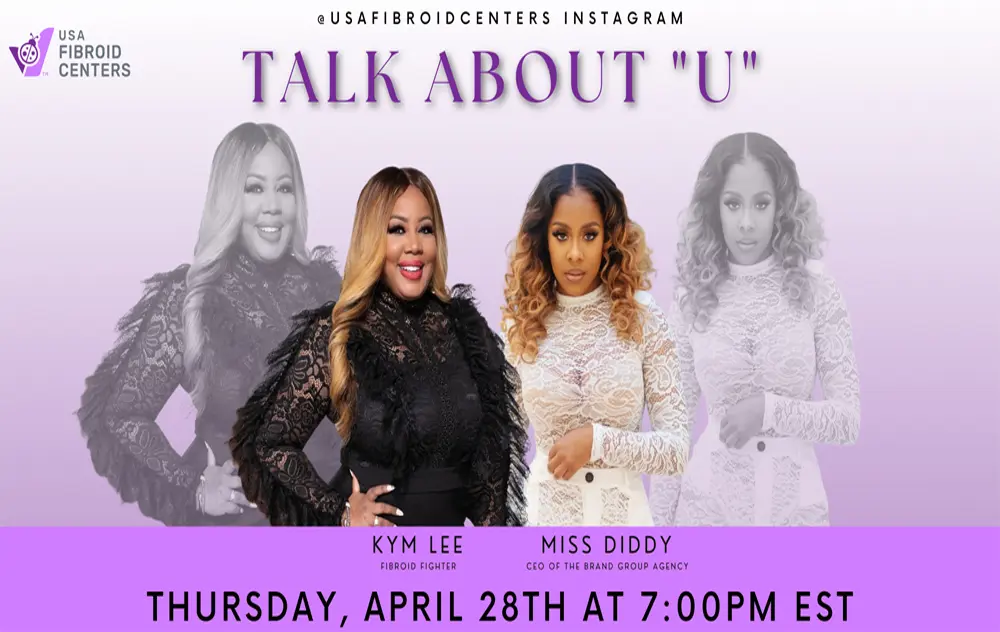 Wednesday, April 20th, 2022
Northbrook, IL, April 20, 2022— USA Fibroid Centers Ambassador Kym Lee welcomes Missy Diddy, christened a "branding and lifestyle genius" by Forbes, who created The Brand Group, which specializes in brand partnerships, marketing concepts, and connecting the dots between entertainment, sports, politics, and music.
The program, which airs live on April 28 at 7:00 p.m. (EST) on USA Fibroid Centers' Instagram site will focus on information about fibroids and treatment options. Miss Diddy will share her personal health struggles and treatment journey that included having 20 fibroids removed through a Mini-Lap Myomectomy, a Laparoscopic Bilateral Ovarian Cystectomy and Excision of Endometriosis. Learn more about fibroids, symptoms, and treatments as Miss Diddy shares her perspective about dealing with fibroids and managing a busy career.
The "Talk About U" Instagram Live Chat is a free event, but registration is required. To register, visit "Talk About U" Live Chat. For more information about fibroids, symptoms, and treatment options, visit www.usafibroidcenters.com or call 855-615-2555.
About USA Fibroid Centers
USA Fibroid Centers is the leading provider of minimally invasive fibroid treatment, with an extensive national network of centers. USA Fibroid Centers' mission is to provide personalized, non-surgical treatment for fibroids using an advanced procedure called Uterine Fibroid Embolization (UFE). USA Fibroid Centers is dedicated to raising awareness of UFE as a treatment option and encouraging more conversation about fibroids. For more information, visit www.usafibroidcenters.com.