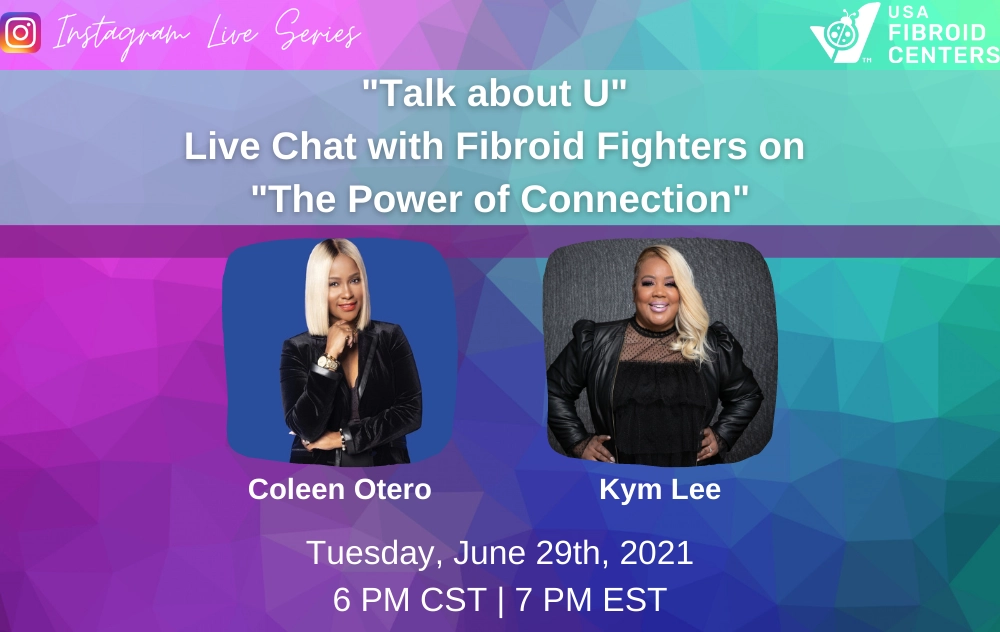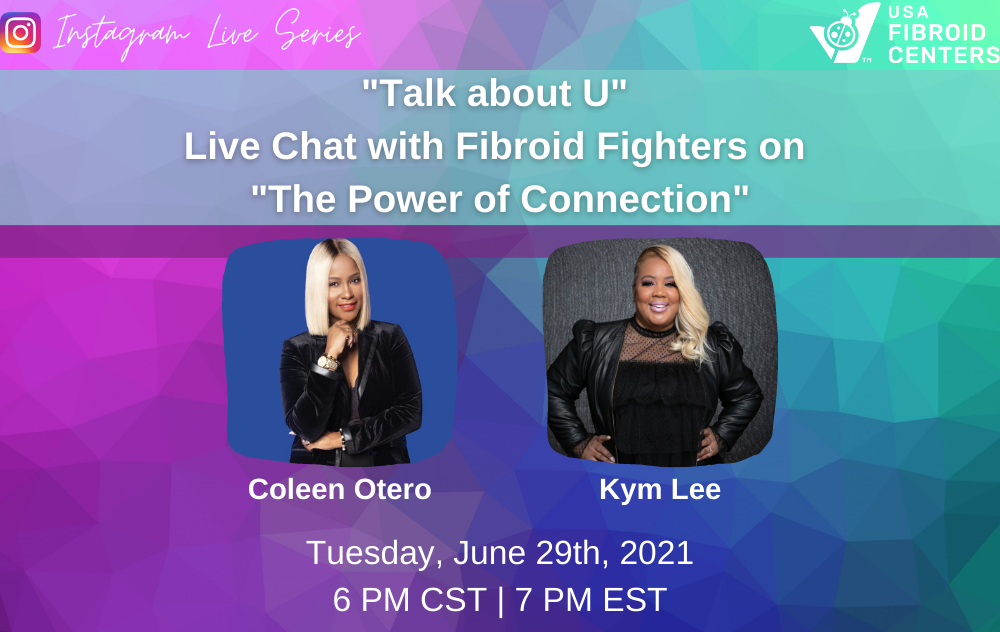 Sunday, June 20th, 2021
Talking About Fibroids with Friends, Families and Colleagues
Northbrook, IL, June 17, 2021— Brand strategist, Author, and Founder of The Otero Marketing Group, CEO Chicks, Coleen Otero joins USA Fibroid Centers Ambassador Kym Lee on the next Talk about "U" Chat Series streaming live on Tuesday, June 29, 2021, at 6:00 p.m. [CST]. The topic, "The Power of Connection" provides strategies to help women raise awareness about fibroid disease and treatment through networking with friends, families, and colleagues. Uterine fibroids are the most common gynecological disorder, affecting half of women younger than 40 years old, and 70 to 80 percent of women after age 50.
Kym Lee, a leading film makeup artist, shares her fibroid journey on the program to empower more women to talk about fibroids and how they impact their personal and professional lives. Otero, whose passion includes helping women become leaders, will share how women suffering from fibroids can borrow business strategies about building a network of connections that can help them stay informed about their treatment options.
The "Talk About U" Live Instagram Chat series features a myriad of topics geared to help women better understand the physical, social, and economic impact of fibroids and learn more about non-surgical treatments like UFE.
"Not hearing about fibroids until they are diagnosed is the most common statement we hear women say," said Yan Katsnelson, Founder and CEO of USA Fibroid Centers, which is the largest provider of non-surgical fibroid treatment in the nation. "Fibroids are the leading indication for hysterectomy in the U.S.," he said. "We need to start more conversations about fibroids and non-surgical treatment options like UFE, so women get information that allows them to make informed decisions about their care."
The "Talk About U" Instagram Live Chat is a free event, but registration is required. To register, visit "Talk About U" Live Chat. For more information about fibroids, symptoms, and treatment options, visit www.usafibroidcenters.com.
About USA Fibroid Centers
USA Fibroid Centers is the leading provider of minimally invasive fibroid treatment, with an extensive national network of centers. USA Fibroid Centers' mission is to provide personalized, non-surgical treatment for fibroids using an advanced procedure called Uterine Fibroid Embolization (UFE). USA Fibroid Centers is dedicated to raising awareness of UFE as a treatment option and encouraging more conversation about fibroids. For more information, visit www.usafibroidcenters.com.
Media Contact:
Susan Swartz
Press@usafibroidcenters.com
224-433-3291