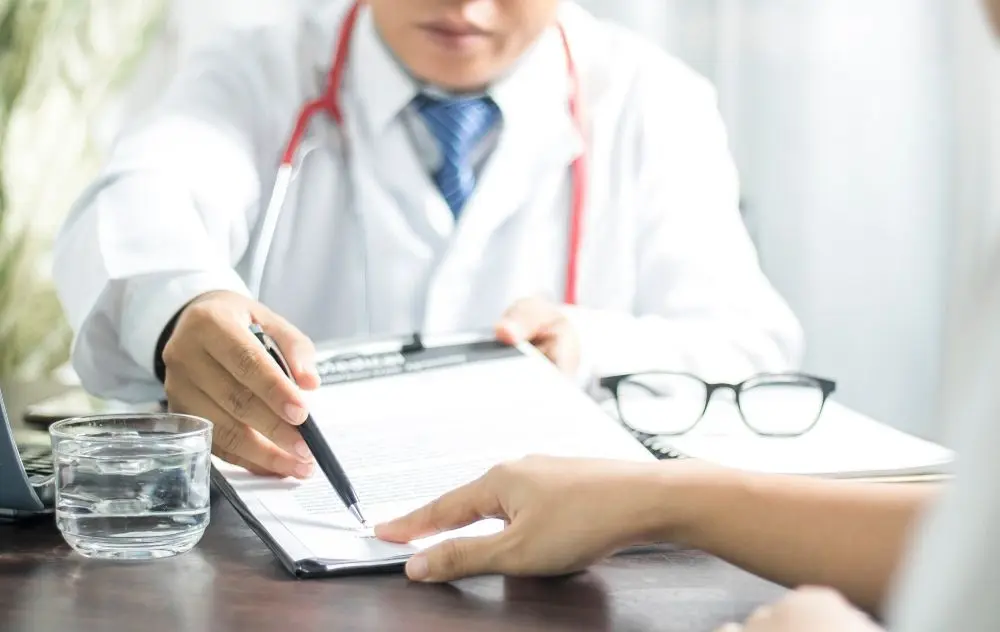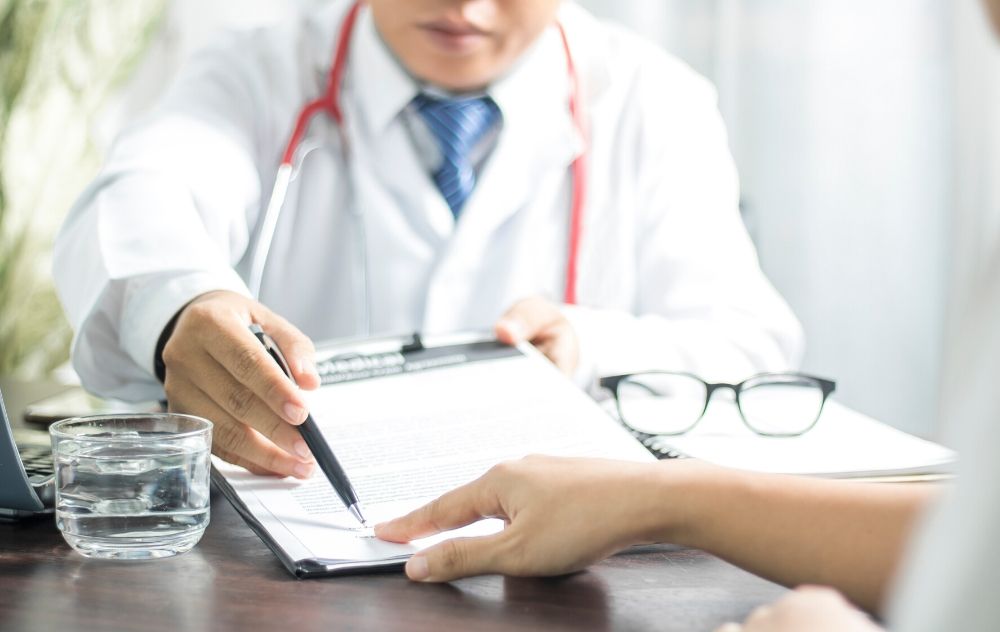 Thursday, March 26th, 2020
One of the most important things that you can do to prepare for your fibroid treatment is educate yourself on all available fibroid treatment options, both surgical and non-surgical. Armed with some at-home research, you'll be ready for your initial doctor visit with questions to ask about Uterine Fibroid Embolization, hysterectomy, and other related procedures. Knowing what to expect with each option will help you choose the treatment that is right for you –– and alleviate any potential misconceptions about fibroids and their effects.
In this guide, you'll find everything you need to about Uterine Fibroid Embolization before and after treatment –– along with answers to some of the most commonly asked questions we hear at USA Fibroid Centers.
How to Prepare for Uterine Fibroid Embolization
There are some important steps to take before UFE to ensure the procedure goes smoothly and that complications do not occur. Women often ask us how to treat fibroids through lifestyle changes or with a fibroid treatment diet. While some evidence suggests that certain lifestyle factors may control fibroids, there is no conclusive research available.
However, we do have some general recommendations on what not to eat when you have fibroids: Avoid an unhealthy diet filled with processed foods, and any foods high in sugar and sodium.
Instead, we'd like you to focus on getting plenty of fruits and vegetables, whole grains, low-fat dairy products, and lean proteins –– and just say no to alcohol and smoking. By living a healthy lifestyle you can prevent further fibroid growth , along with a variety of other physical and mental health conditions.
Avoid taking any blood-thinning medications at least 24 hours prior to the procedure and don't eat solid foods after midnight the night before your procedure. Only drink clear liquids up to three hours before your appointment. You should arrive at least 15 minutes prior to your scheduled time. You will need to bring someone along to drive you home afterwards, since you'll be sedated for the procedure.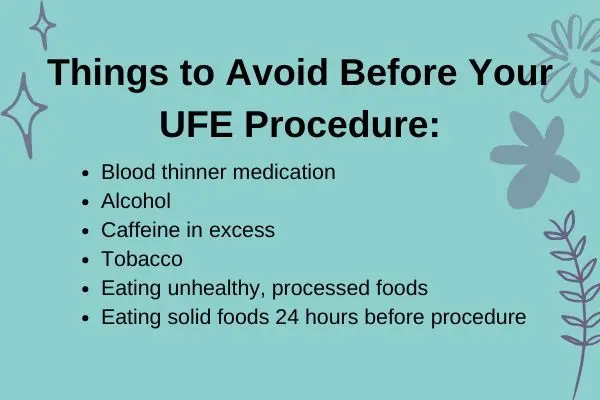 Things to Avoid Before Your UFE Procedure
Blood thinner medication
Alcohol
Caffeine in excess
Tobacco
Eating unhealthy, processed foods
Eating solid foods 24 hours before procedure
During the Procedure
Uterine Fibroid Embolization involves inserting a catheter through the groin, maneuvering it through the uterine artery, and injecting the embolic agent into the arteries that supply blood to the uterus and fibroids. As the fibroids die and begin to shrink, the uterus fully recovers. The UFE procedure is performed under light sedation, so general anesthesia is not required.
At the start of the procedure, you will be positioned on the examination table. You may be connected to monitors to observe your vitals. The specialist will then insert an IV into a vein to administer a sedative. This procedure uses moderate sedation. Then, the area of your body will be sterilized and covered with a surgical drape before your doctor inserts the catheter device.
Once everything is prepared, a very small skin incision is made at the site. The specialist then uses an x-ray to guide the catheter into your femoral artery.
The medicine is released into both the right and left uterine arteries by repositioning the same catheter that was originally inserted. Only one small skin puncture is required for the entire procedure. When the procedure is complete, the catheter is removed and pressure is applied to stop any bleeding.
After Uterine Fibroid Embolization
What is the average fibroid embolization recovery time? Since your incision requires no stitches and only a small bandage, you can shower the same day, and should be able to return to your normal, daily activities after uterine fibroid embolization within one to two weeks.
During recovery, you may experience some fibroid embolization side effects:
Cramps
Nausea
Fever
Vaginal discharge
Spotting
After fibroid removal recovery, you will be able to enjoy the full benefits of UFE treatment:
Lighter and shorter menstrual bleeding
Pain relief
Resolution of fibroid-related anemia
An improved sex life
Higher self-esteem
More energy
Potential for pregnancy and motherhood
Fibroid Removal Recovery
During Uterine Fibroid Embolization recovery, it's possible to experience pelvic cramping for several days. You may also develop a low-grade fever and nausea, depending on the number of fibroids you had treated.  Post-UFE pain will likely be most severe during the first 24 hours after treatment.
It's common for women to experience a lighter period initially after UFE. Symptoms should be relieved within 2-3 weeks of the procedure. Your specialist may prescribe some pain medication for you to take after you return home. Although it can take a few weeks for symptoms to completely subside, you should be able to return to normal activities within 1-2 weeks. You should also be able to resume sex after UFE, once you're symptoms start to improve.
If you want to get a better sense of what some individuals experience during recovery, we recommend exploring Uterine Fibroid Embolization reviews –– along with discussing post-UFE expectations with your doctor.
Contact Us
To learn more about Uterine Fibroid Embolization, schedule a consultation with one of our leading fibroid experts. If you have questions regarding treatment cost, insurance coverage, doctor availability, or need help scheduling an appointment, feel free to give us a call at 855.615.2555.