Now Offering Telemedicine Consultations
During this unpredictable time, we want to remind you not to neglect underlying health issues –– including any suspected or previously diagnosed uterine fibroids. If you are sitting at home with fibroids, you may be able to benefit from our telemedicine consultations. After all, heavy periods, painful cramps, and other unpleasant fibroid symptoms aren't going to stop just because you're at home. 
We want to reassure patients that we are following strict precautionary measures in our offices to keep everyone involved healthy and safe. However, if you prefer to avoid coming into a clinic location at this time, we certainly understand.
That is why we are now offering virtual doctor visits. You can schedule a convenient appointment time to connect with one of our fibroid specialists via computer, tablet, or smartphone. During your online visit, the specialist will be available to perform a visual examination and discuss your fibroid symptoms, medical imaging, and options for fibroid treatment.
Schedule a Virtual Appointment

What is Telemedicine?
Telemedicine is the ability to deliver healthcare services remotely. Although telemedicine has been in the news a lot lately, it is not a new concept. For decades, radio transmission and satellite technologies have brought healthcare services to rural or remote areas. This allowed individuals to reach out for help during times of natural disaster, while also keeping the providers safe when working with patients. 
With recent advancements in technology, you now have the opportunity to connect with one of our fibroid specialists anytime, anywhere. Many health providers have turned towards telemedicine solutions to provide more accessible medical care. This is not only convenient, but helps protect you and our medical staff from illness. 
Benefits of Telemedicine 
Our telemedicine services offer a range of benefits, including:
Convenience: There are few people that want to disrupt their busy schedules to travel to an appointment and wait around for a quick conversation with a doctor. We understand that you may need to take time off work for appointments; or you may have to pay for childcare for each appointment. Telemedicine can save you time while connecting with an established practitioner.
Expanded Access to Medical Care: Instead of potentially avoiding the doctor, expanded access to telemedicine makes it easier to discuss symptoms and health issues with a medical professional. This is particularly helpful if you are home-bound, or if you lack reliable transportation. As an added bonus, telemedicine services can give you better access to far-away specialists.
Improved Quality of Care: Similar to those working within a clinical setting, telemedicine enables our doctors to observe your symptoms and determine whether if treatment is necessary. Depending on your condition, they may recommend you come into the office for an immediate procedure.
Better Patient Engagement: When you are more engaged in your own healthcare, you're more likely to follow through on medical recommendations. For example, attending a follow-up appointment via telemedicine enable you to stay in touch with your specialist, so you can stay focused on your overall health.
Affordable Care from Professionals: Our telemedicine services are conducted by our various licensed physicians and specialist. These services are covered by most insurance plans including Medicare. If you want to verify your insurance coverage before you schedule an appointment, just give us a call at 855.615.2555.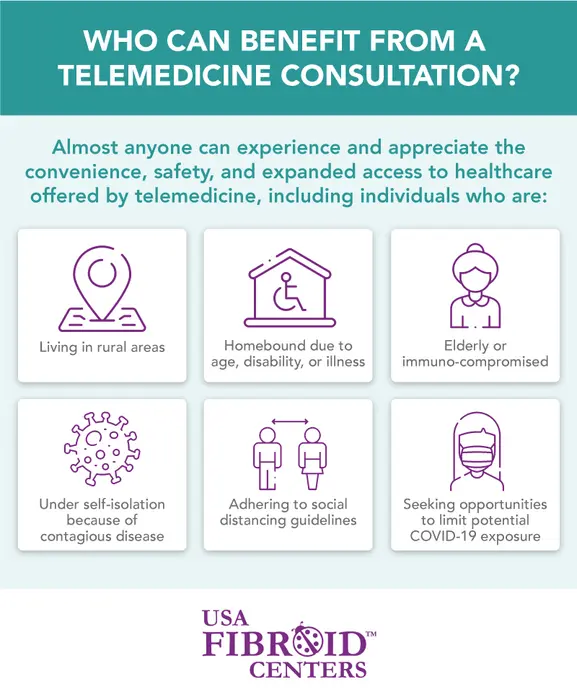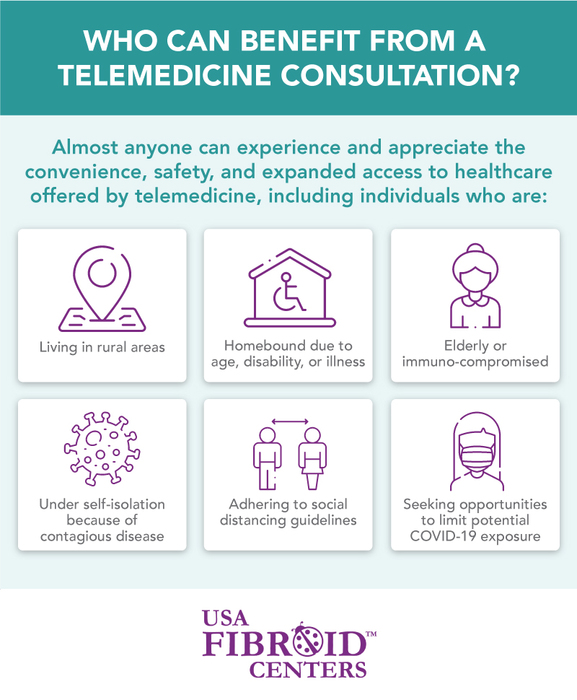 Services Available Through Telemedicine
At USA Fibroid Centers, due to the nature of uterine fibroids, we offer the following services through telemedicine:
Initial Consultation

Fibroid Symptom Management

Follow-Up Appointments
During an initial consultation, one of our specialists will ask you questions about your medical history and observe any symptoms you are experiencing. Then, depending on the state of your condition, they will evaluate whether you need additional care, or in serious cases, a trip to the emergency room. These initial consults through telemedicine are meant to replace a physical trip to a clinic. However, if you are experiencing life-threatening symptoms, you should never wait around for an appointment- call 911 immediately.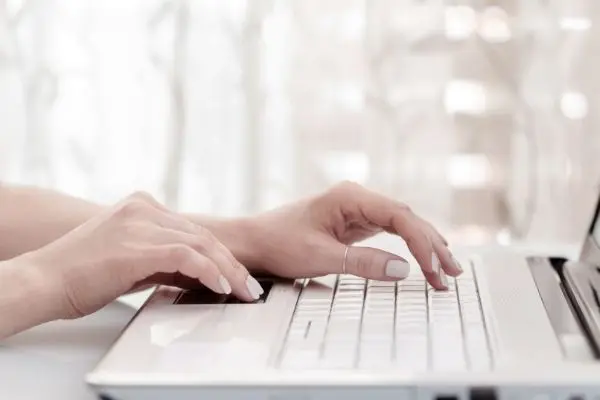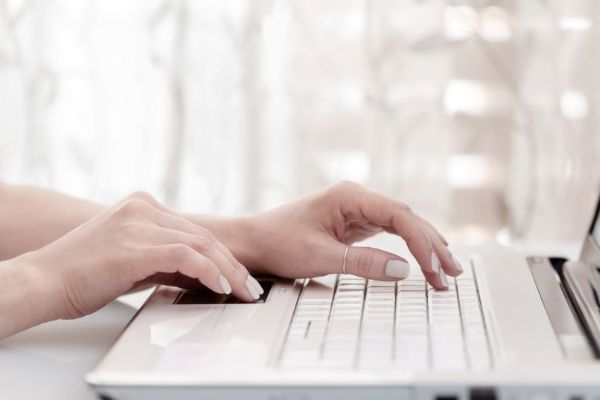 Fibroid symptom management appointments means you can virtually meet with one of our specialists about all of your fibroid concerns. You can ask questions and get expert-tips on how to manage pain or heavy bleeding.
If you have already received treatment from us and want to avoid coming in to a clinic for a check-up, telemedicine may be a good solution for you. We also offer follow-up appointments online, meaning you can discuss your progress since treatment with a certified specialist, from the convenience of your home.
Schedule a Virtual Appointment
If you are suffering from the effects of uterine fibroids, don't wait around to get help. Along with the potential to cause heavy periods, pelvic pain, frequent urination, and painful sex, uterine fibroids can damage surrounding organs and even impact fertility when left untreated.
We truly believe that telemedicine will significantly expand and continue to become an essential service in all areas of healthcare. At USA Fibroid Centers, we encourage you to give telemedicine a try and schedule a convenient virtual appointment with one of our top-rated fibroid specialists.
Don't Suffer Another Day
Life with fibroids can be painful and challenging. Timely detection and treatment of fibroids can relieve symptoms, as well as reduce your risk for hysterectomy.
855.615.2555
Schedule Online