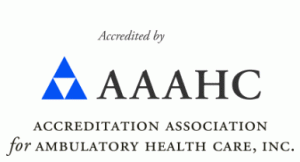 Fibroid Treatment in Elmwood Park, IL
Did you know that uterine fibroids symptoms — such as abnormal bleeding, severe cramps, painful sex, and low energy levels — can often be addressed through a minimally invasive treatment called Uterine Fibroid Embolization (UFE)? Although there are other fibroid treatments in Elmwood Park, IL available, including hysterectomy or myomectomy, many women are not informed of all their options. Our experts at USA Fibroid Centers want you to know about our effective, non-surgical treatment that can preserve your uterus, eliminate symptoms, and quickly get you back to living life to its fullest.
Uterine fibroids are noncancerous tumors that appear in or on the uterus. They can develop as solitary growths or in clusters, and range in size from that of a tiny seed to as large as a melon. Fibroids can potentially harm surrounding organs, impact fertility, and cause painful or unpleasant symptoms. The type, size, location, and number of fibroids can impact which symptoms occur, along with their severity. For some, symptoms are not present at all.
Schedule Your Consultation in Elmwood Parke
Learn more about symptoms
Common symptoms of fibroids can include:
anemia-induced fatigue
pelvic or lower back pain
constipation
stomach bloating
pelvic pressure
We recommend seeking treatment if your uterine fibroid symptoms are interfering with your career, sex life, self-esteem, or social interactions. The good news is that it is easy and convenient to explore our state-of-the-art fibroid treatment in Elmwood Park, IL.
Related fibroid articles:
Are You Missing Work Due to Fibroid Symptoms?
Fibroids: Sex and Dating
What Happens When You Don't Treat Fibroids?
Minimally Invasive Uterine Fibroid Treatment in Elmwood Park, IL
At USA Fibroid Centers, we know this isn't true. Our fibroid specialists near Oak Park, IL want you to be aware of less invasive, non-surgical solutions. Uterine Fibroid Embolization is lower risk than fibroid surgery, doesn't require a hospital stay, and will allow you to return to normal activities within just one to two weeks. That means you'll soon be back to enjoying life in our beautiful village!
Our highly-qualified Elmwood Park, IL fibroid specialists perform Uterine Fibroid Embolization in our outpatient facilities. Unlike some other Elmwood Park, IL fibroid removal specialists, we use fibroid mapping, an advanced ultrasound technique, to locate your fibroids. UFE is done under light sedation, so you'll be comfortable and calm throughout. Here's what to expect:
A tiny catheter is threaded towards the arteries that supply blood and nutrients to the fibroid
Embolic material is injected into the uterine artery to block blood flow to the fibroid
Once cut off from blood flow and nutrients, the fibroid(s) will wither away and eventually die
The injected material remains permanently in the blood vessels at the fibroid site, making it rare for the fibroid to return to its former, problematic size
The small incision is covered with a bandage
General anesthesia and stitches are unnecessary
You'll rest for a while before heading home the same day with a designated driver
The UFE procedure takes between 30 and 45 minutes. This treatment is lower risk than a hysterectomy or myomectomy, and your ovaries and uterus can remain intact, preserving your fertility. If you want to learn whether you are a candidate for Uterine Fibroid Embolization, we suggest scheduling a consultation. We perform fibroid treatment with skill, cutting-edge technology, and the highest regard for our patients.
Looking for an Elmwood Park, IL Fibroid Specialist?
As America's #1 fibroid treatment experts, we offer dozens of USA Fibroid Centers clinics across the country. Our highly-rated fibroid specialists have unparalleled experience in performing this minimally invasive uterine fibroid treatment. We aim to avoid unnecessary Elmwood Park, IL fibroid surgery by helping our patients explore their full range of options. After UFE, you can look towards a future that isn't ruled by fibroid pain, discomfort, and unpredictability.
Our Fibroid Doctors
Beginning Your Fibroid Treatment in Elmwood Park
If you're looking for safe, effective treatment options for your fibroid disease, at USA Fibroid Centers, our Elmwood Park fibroid specialists provide you with state-of-the-art UFE treatment while making sure your comfort comes first. 
We know that any medical procedure can be stressful, and our staff is trained to answer your questions and educate you about your fibroid treatment options to ease any concerns you and your family may have. 
Let us take the worry away. Our experienced fibroid specialists in Elmwood Park will provide superior treatment with your comfort in mind. 
How to Prepare for your Visit
Once you're ready for your visit to our Elmwood Park fibroid treatment location, please be prepared to have the following documents with you;
A government-issued ID such as a driver's license or passport

Medical history covering any previous fibroid treatments

List of prescription medications you may be currently taking

Insurance card
On the day of your fibroid treatment, we ask that you;
Continue taking any prescription medications

Do not take any blood-thinning medications or over-the-counter pain relievers

Refrain from caffeine, alcohol, or tobacco use

Abstain from eating any solid foods within 24-hours of your

UFE treatment

appointment

Drink only clear liquids within 3-hours of your

fibroid treatment

Have a friend or family member with you to drive you following the procedure.
Confirm your Insurance Coverage
Before you schedule your fibroid treatment at our Elmwood Park location, verify your insurance coverage from our extensive list of insurance partners. 
Our Elmwood Park team will discuss your specific insurance coverage and work with you and your insurance provider to help organize any paperwork. Our goal is to get you the most coverage available for your UFE treatment. If you don't find your insurance provider on our extensive list, call us locally at 847.483.5717.
How to Get to Our Elmwood Park, IL, Fibroid Treatment Center

Our Elmwood Park center is at 7230 West North Avenue, Suite 106B, only a few blocks from Lindberg Park. 
Nearby Areas We Serve:
Oak Park

Elmhurst

Franklin Park

Norridge

Lincolnwood
Fibroid Center Near Oak Park: We are about 10 minutes from Oak Park, which works out to a 2.8-mile drive via Harlem Avenue.  
Fibroid Center Near Elmhurst: Our Elmwood Park center is about a 20-minute, 7.5-mile drive via East North Avenue. 
Fibroid Center Near Franklin Park: From Franklin Park, our center is only about 5 miles away. The drive takes about 16 minutes via West Grand Avenue.
Fibroid Center Near Norridge: Our center is only about 5.5 miles from Norridge; the drive takes less than 15 minutes via North Cumberland Avenue.  
Fibroid Center Near Lincolnwood: We are about a 30-minute, 11-mile drive from Lincolnwood via Harlem Avenue. 
Book Your Elmwood Park, IL Fibroid Treatment Today
When uterine fibroid symptoms are affecting your daily life, it's time to get help. Uterine Fibroid Embolization offers you the opportunity to take back control of your body and life. Discover all of your options for uterine fibroid treatment in Elmwood Park, IL.
If you want to consult with one of our top fibroid specialists, give us a call, stop by our office, or use our convenient online scheduling form.